Press release
Publication of DWP research report 752: Job Services Australia: design and implementation lessons for the British Context
Research published by the Department for Work and Pensions on the Australian system for designing and implementing contracted employment.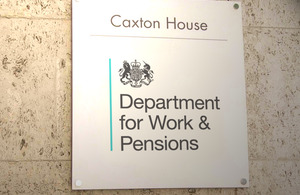 New research has been published by the Department for Work and Pensions on the Australian system for designing and implementing contracted employment provision.  Australia has more than a decade of experience in contracting out employment services. This research summarises that experience and identifies design and implementation lessons for the British context.
In Australia there is a viable network of for-profit and non-profit providers.  Providers have used their flexibility to deliver new service delivery models that, at their best, allowed case managers to tailor services to different participants.  The incentive system also focused providers and their case managers on helping participants to gain entry into sustained employment.
Over time, problems emerged with 'parking' and the behaviour of some providers who used their flexibility to manipulate the incentive system.  Flexibility was reduced by greater administrative and compliance demands, leading to a thorough overhaul of the system in July 2009.  Job Services Australia integrated Job Network provision with six previously separate specialist programmes.
A key design issue is the need to balance the desire for maximum provider flexibility with adequate safeguards for participants. There has been much 'learning by doing' and constant adaptation in Australia. Policy makers have sought to establish a market and payment structure that promotes competition, increases job outcomes, reduces 'parking', and improves service quality. In this process of market shaping officials introduced greater specification of service requirements and regulation of processes that then reduced the scope for flexibility and innovation. The Job Services Australia delivery system encouraged greater flexibility but it seems that elements of the administrative and compliance patterns established under the Job Network have continued to constrain service delivery. Transparent monitoring of service standards may reduce parking and reveal weak service delivery, along with dissipating future pressure for increased regulation with the inflexibility that may entail.
Notes to Editors:
DWP Research Report No 752 - Job Services Australia: design and implementation lessons for the British Context was published on 29h June 2011, by DWP;
The research was conducted on behalf of DWP by the Centre for Social and Economic Inclusion. The report author is Dan Finn.
The report and summary are available free on the DWP website http://research.dwp.gov.uk/asd/asd5/rrs-index.asp
Materials for the report come from a literature review of evidence on the Australian system, and interviews with senior people engaged in design and delivery.
Published 30 June 2011