Press release
Publication of DWP research report 750: health and well-being at work: a survey of employers
A survey designed to collect evidence on sickness absence, attitudes to health and work and the promotion of health and well being at work.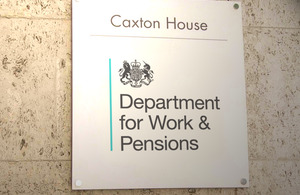 Research is published today by the Department for Work and Pensions which presents the findings from a quantitative survey that was designed to collect robust evidence on: sickness absence; attitudes to health and work; and the promotion of health and well being at work.
The key findings of the report were as follows:
Twenty one percent of employers did not have a system in place for recording sickness absence and this was most common amongst small employers (78 per cent of small employers have such a system in place compared with 98 per cent of medium and large employers).
Large employers reported a higher incidence of sickness absence than small and medium employers.
Nearly half of employers (48 per cent) paid Occupational Sick Pay (OSP) to some or all of their staff. Large employers (250+ employees) were most likely to provide OSP: 88 per cent compared with 71 per cent of medium employers (50-249 employees) and 47 per cent of small employers (2-49 employees). Employers that paid OSP did not always do so in the first day of absence.
Two-thirds of employers had not taken any actions to help employees with health problems stay in work or return to work.  Amongst the third who had taken actions, the most common were: allowing employees to work different or reduced hours; and, meetings to discuss extra help employees might need to stay in or return to work and these were most likely to be large organisations.
Eighty-three per cent of employers did not provide stress management advice and support and these were more likely to be small employers, private sector employers and employers where there was no trade union presence.
Sixty one per cent of employers offered flexible working arrangements such as flexi-time, working from home and job sharing and this was more likely to be the case amongst large employers.
There was strong agreement: that employers have a responsibility to encourage their employees to be physically and mentally healthy; and that there is a link between work and employees' health and well-being. However, only a slim majority agreed that the financial benefits of investing in employee health and well-being outweighed the costs and half thought their employees would not want their employers to intervene in terms of their physical and mental health.
Notes to Editors:
DWP Research Report No 750 - Health and well-being at work: A survey of employers , is published today, 28th July 2011, by DWP
The research was conducted on behalf of DWP by Gfk NOP. The report authors are Viv Young and Claire Bhaumik
The report and summary are available free on the DWP website http://research.dwp.gov.uk/asd/asd5/rrs-index.asp
The report is based on a telephone survey with 2250 employers
Published 28 July 2011