Press release
Publication of DWP research report 724: customer experiences and satisfaction with The Pensions Advisory Service
Research published today by DWP measures customer experiences and satisfaction of The Pensions Advisory Service (TPAS).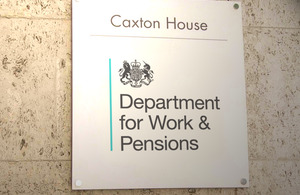 Research is published today by the Department for Work and Pensions measured customer experiences and satisfaction of The Pensions Advisory Service (TPAS).
The research was undertaken to gain a better understanding of the current customer profile; assess the extent to which the service met their needs; and understand what action customers may have subsequently taken.
The research included a telephone survey of 500 users of TPAS' helpline and 790 responses from a postal survey to customers who had used the written complaints service. Twenty respondents from the surveys also completed in-depth telephone interviews.
Key findings from the research were:
Telephone respondents were evenly split by gender, while two-thirds of the postal respondents were male. The majority of respondents were nearing or over retirement age, with 66 per cent of the telephone and 74 per cent of the postal respondents being aged over 55.
95% of helpline respondents and 67% of written complaints respondents were either 'very satisfied' or 'fairly satisfied' with their service. Just 3% of helpline respondents were 'fairly dissatisfied' or 'very dissatisfied' with their service, though this was higher for written complaints respondents at 22%. The difference in satisfaction was expected given the nature of the postal service (i.e. complaints).
Nearly all (98%) respondents were satisfied with the service they received from TPAS when they were also happy with the outcome. 1 When respondents were not happy with the outcome, satisfaction levels were at 27%.
In addition to this, key drivers to satisfaction of service were reported to be:
for the helpline; information that was clear, concise, up to date, accurate, helpful for making subsequent decisions and information that was seen as valuable to the respondents.
for written complaints; speed of correspondence and whether or not the respondent had experienced problems or difficulties with the service
A number of respondents felt more could be done to raise awareness of TPAS more widely, and suggested providing posters in community areas, including contact details in information from pension providers, and raising their profile with employers.
Notes to Editors:
DWP Research Report No 724 - "Customer Experiences and Satisfaction with The Pensions Advisory Service" is available on the DWP website: http://research.dwp.gov.uk/asd/asd5/rports2011-2012/rrep724.pdf
 The research was conducted on behalf of DWP by GHK Consulting and TNS-BMRB. The report authors are Alex Thornton, Nicholas Fitzgerald, Richard Lloyd and Heather Rose.
The report surveyed 500 customers of TPAS' helpline and 780 users of the written complaints service. Twenty respondents also took part in  telephone in-depth interviews.
Published 10 February 2011