Publication of DWP research report 703: Communicating with customers of retirement age
Findings of research to explore the attitudes and perceptions of people in retirement.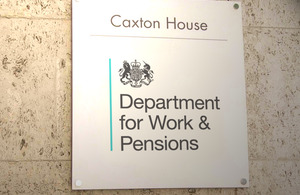 The Department for Work and Pensions has published the findings of research to explore the attitudes and perceptions of people in retirement.  The research will enhance the Pension, Disability and Carer's Service's customer segmentation of pensioners and enable the continuing development of a robust customer strategy.
The Pensions Disability and Carers Service commissioned IPSOS MORI to conduct research into the attitudes and perceptions of pension age customers. The research was conducted over two phases and included both qualitative and quantitative methods. The findings of this research are being used to inform the development of communication strategies and to further develop the odyssey segmentation model.
Key findings include:
Age shapes customers' experiences and attitudes - findings show that the age of customers affected their outlook on society, finance and health. The oldest group of customers showed significant differences in attitude and behaviour to those in younger age groups.
Attitudes and perceptions are also correlated to affluence and health - most participants who are less affluent were mostly employed throughout their working lives but were still reliant on state benefits to provide an income in retirement. Those from less affluent households were more likely to report having a long-term illness and make regular visits to the doctor.
Family plays a crucial role in the lives of most of the over 60s - including an important social role in acting as advisors on health and financial decisions. Family members are the most likely source of home help amongst those with health difficulties, as well as influencing access to information and understanding government services.
Income and access to services were found to differ by gender - older women may be more likely to be socially isolated than men which suggests the tenor of communications to women, and the services that are offered, may need to be structured differently.
Take-up and use of new technology is stronger in younger participants - although there are opportunities available for conveying messages via modern forms of technology, the more tried and tested sources remain the most widely used and the most trusted.
Notes to Editors:
The DWP research report 703 'Communicating with customers of retirement age' is available on the DWP website: http://research.dwp.gov.uk/asd/asd5/rrs-index.asp
Ipsos MORI conducted the research. The report authors are Dr Sarah Jenkins, John Higton and Elizabeth Lane.
The research was undertaken between December 2008 and March 2010
Published 26 October 2010