Press release
Publication of DWP research report 692: Measuring the Satisfaction and Awareness of Partners and Stakeholders for Pension, Disability and Carers Service
Survey to measure the awareness of products and services provided by the PDCS and the levels of satisfaction of Partners and Stakeholders.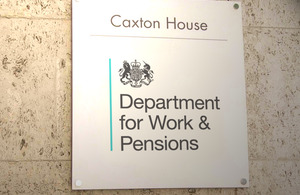 A report is published today by the Department for Work and Pensions on the findings of research conducted to provide PDCS with an ongoing comprehensive survey to measure both the levels of awareness of products and services provided by the Pension, Disability and Carers Service and the levels of satisfaction of Partners and Stakeholders across a range of activities identified as key to successful consultation and partnership working. 
The research was undertaken between December 2009 and March 2010. The first element of the research included a pilot study which was then followed by a full scale quantitative survey of over 270 current PDCS national and local partners and stakeholders. The final element consisted of qualitative interviews with 20 partners and stakeholders to gather feedback on the perceptions of the quantitative study.
The key findings of the Quantitative study:
PDCS enjoys effective and good relationships with its partners and stakeholders
At least four out of five stakeholders and partners report a degree of familiarity with The Pension Service, the Department for Work and Pensions and the Disabilities and Carers Service.
Partners and stakeholders are positive towards PDCS with nearly a quarter of stakeholders and partners say they would speak highly of PDCS without being asked.
Most stakeholders and partners report a fairly active level of contact with PDCS through PDCS staff, the DWP website, Direct Gov, information from colleagues and internet search engines.  A minority of stakeholders and partners said that they would like more communication or direct contact.
Nearly one third of partners felt that increased joint working and sharing of information would be beneficial to their organisation.
The results of the study strongly indicated that partners value their relationship with PDCS and hold them in high regard.
Key findings from the qualitative research
The Satisfaction Tracker process was seen as a positive step for PDCS to be conducting, but not as a stand alone process. 
Partners commented that they were pleased to have the opportunity to express both positive and negative opinions and reiterated that the questions were clear and objective. Stakeholders viewed the survey as an important part of ongoing communications, relationship building, and feedback processes.
Summary
This research initiative by PDCS was welcomed by participants and the findings indicate a positive base for PDCS to continue to build partnerships and stakeholder relations. The PDCS Partner and Satisfaction Tracker is now positioned with partners and stakeholders to be a useful regular feedback mechanism to regularly seek to improve on the lines of communication between PDCS and its stakeholders.
Notes to Editors
The DWP research report Measuring the Satisfaction and Awareness of Partners and Stakeholders for Pension, Disability and Carers Service will be published on 23 September 2010.
ComRes conducted the research. The report author is Caroline Lawes.
Published 23 September 2010