Press release
Publication of DWP research report 686: A Qualitative Overview of Vacancy Filling Services for Employers: Target Setting and Performance Management
Lessons from how Jobcentre Plus (JCP) and comparator organisations deliver employer vacancy filling services to employers.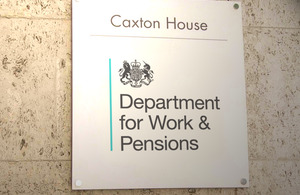 A report is published today by the Department for Work and Pensions (DWP) which provides lessons from how Jobcentre Plus (JCP) and comparator organisations deliver employer vacancy filling services to employers. It focuses particularly on how organisations set targets and manage their performance in this part of their business.
JCP and comparator organisations provide a wide range of customer services to both individuals seeking employment, and employers looking to fill vacancies. All organisations offer the 'standard' services, such as vacancy postings and searches.  However, there are also examples of more varied and innovative services.
The key findings of the study are based on interviews with a small number of key stakeholders in DWP, JCP and comparator organisations were:
Apportioning targets at a local or micro level was felt by interviewees to be more effective than more aggregate targets at driving performance and meeting strategic targets.
Regular communication and visibility of targets and the reporting of adviser performance can drive the right behaviours and subsequently performance.
All organisations favoured a move away from volume process targets towards quality targets, although most felt it is easier to develop volume targets.
Most comparator organisations had changed their business models from jobseeker-led to employer-led as they felt this would enable them to achieve the desired level of employment outcomes.
All organisations reported that the quality of candidates referred (in terms of their job readiness and skills) to employer vacancies is a key driver of satisfaction and dissatisfaction. The way staff treat employers is also important.
There were differences in the frequency of collecting employer feedback. JCP and DWP have been particularly active in this area with monthly EET surveys alongside DWP's broader annual employer survey.
Web-based tools are increasingly important as employers and jobseekers have higher demands and expectations of them.
All organisations believed that automating vacancy filling services is hugely important to increase the efficacy of vacancy filling, realise cost savings and free up resources to focus on the hardest to help.
Productive relationships with employer representative organisations such as the Confederation of Business Industry, Department for Business, Innovation and Skills and Chambers of Commerce are important for highlighting the importance of employers to JCP's business.
Notes to Editors
The research report 686 - A Qualitative Overview of Vacancy Filling Services for Employers: Target Setting and Performance Management is published on 28 September 2010.  The report is available on the DWP website http://research.dwp.gov.uk/asd/asd5/
The study is based on findings from seven depth interviews with JCP and DWP stakeholders and four case studies with comparator organisations followed by interviews with JCP/DWP staff and comparator organisations.
The research was conducted by Ipsos MORI.
Published 28 September 2010