Press release
Publication of DWP Research Report 681:Feasibility study for the future Jobcentre Plus Customer Satisfaction Survey
Findings from a feasibility study are published today by the Department for Work and Pensions.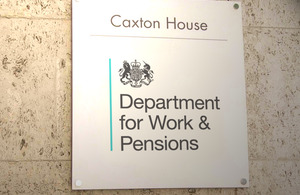 Findings from a feasibility study are published today by the Department for Work and Pensions. The report identifies the optimal design for a new measure of Jobcentre Plus customer satisfaction.
The research involved a scoping exercise to assess stakeholders' requirements. The findings were then used to develop a new customer satisfaction survey.
Key findings from the research demonstrated that:
conducting the Jobcentre Plus customer satisfaction survey every six-months enables greater operational responsiveness (until recently the survey was conducted biennially with a qualitative follow-up study);
it is only feasible to report national-level and regional-level customer satisfaction data as obtaining district-level data would be prohibitively costly;
the use of a four point verbal scale to measure overall satisfaction facilitates comparisons with the Pension, Disability and Carers Service customer satisfaction survey;
increasing the number of Black and Minority Ethnic survey respondents better enables customer satisfaction to be compared across ethnic groups;
incorporating a "guest" module within the survey can enable topical policy issues that are not covered in the core questionnaire to be addressed; and
it is sufficient to conduct qualitative follow-up research on an ad-hoc basis to investigate specific findings that emerge from the main survey. 
Notes to Editors:
DWP Research Report No. 681 - "Feasibility Study for the future Jobcentre Plus Customer Satisfaction Survey" - will be published by Corporate Document Services on 26th August 2010.
The customer satisfaction survey that was developed as part of the feasibility study was piloted amongst 315 Jobcentre Plus customers in January-February 2010.
The research was conducted by TNS-BMRB. The authors of the report are Eleni Romanou and Nick Howat.
Published 26 August 2010