Press release
Publication of DWP Research Report 678:Governance structures and the devolved delivery of employment outcomes
Existing governance structures for the devolved delivery of employment outcomes and effectiveness in enabling the devolution to localities.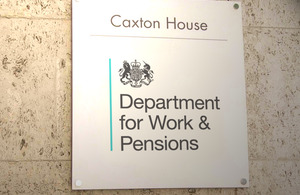 A report is published today by the Department for Work and Pensions (DWP) which reviews existing governance structures for the devolved delivery of employment outcomes and considers their effectiveness in enabling the devolution of responsibilities to localities, whilst retaining a central performance management and monitoring function. 
The research was conducted by ECOTEC, and includes a review of international governance structures for the delivery of employment outcomes as well as case study evidence from the UK.
The main findings were as follows:
There is a lack of evidence on the impacts of different approaches to devolved governance. This, combined with the difficulty of calculating and comparing the full cost of different approaches makes it difficult to assess the value for money of different governance structures.
The international evidence shows that an effective devolved infrastructure requires a clear demarcation of roles between central and local levels.  This was reflected in the British case studies.
Some respondents felt there was a tension within the welfare to work system between competition (market driven approaches) and co-ordination (sub-regional multi-agency partnerships), but many respondents acknowledged the potential benefits of being able to play a role in ensuring that contracted initiatives complement existing sub-regional and local activity.
Some interviewees felt that the experience and capacity required for effective devolved governance were not always evident across local levels.
Both the international literature and British field-work suggest that multiple governance structures within given areas do not necessarily reduce efficiency. For example, in British cases where governance arrangements exist at several spatial levels within a region, overlap of personnel within partnerships and clear communication routes enhanced working.
Notes to Editors:
The DWP Research Report 678: Governance structures and the devolved delivery of employment outcomes is published on August 17th and is available here: http://research.dwp.gov.uk/asd/recent_research.asp
The research was carried out on behalf of DWP by the research and consultancy provider, ECOTEC.
Published 17 August 2010