Press release
Publication of DWP research report 668:Exploring staff perceptions of Jobcentre Plus downturn measures
Jobcentre Plus staff perceptions of a number of "downturn measures" which were introduced in 2008.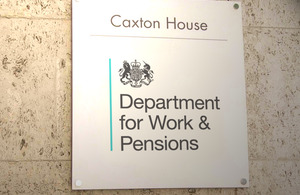 A research report is published today by the Department for Work and Pensions which explores Jobcentre Plus staff perceptions of a number of "downturn measures" which were introduced in 2008 to help manage the increase in customer volumes associated with the economic downturn. The aim of the research was to provide an insight into the effectiveness of the measures and to inform decisions regarding their future implementation.
Key findings from the research were:
Staff respondents thought that, in general, the downturn measures had achieved their aim of helping to manage the increase in customer volumes without having a detrimental impact on customer service levels.
The "Focused Interventions" measures were reported to be a particularly effective means of managing increasing customer volumes. These measures included shorter 35-minute New Jobseeker Interviews and more focused Fortnightly Jobsearch Reviews, which were both thought to have greatly increased the number of appointments available for jobseekers. 
Most staff respondents thought that the "Optimising Customer Flows" measures provided an effective means of managing customer volumes and reducing waiting times in Jobcentre Plus offices. This was achieved by allowing customers to see the next available adviser, rather than seeing advisers by appointment.
In general, the "Group Interventions" measures were said to help manage staff workloads by allowing certain labour market interventions to be delivered simultaneously to groups of customers. However, some respondents suggested that customers could be uncomfortable discussing aspects of their jobsearch activities in a group setting. 
The "Flexible Financial Assessor" measure was perceived to have had a negative impact on staff workloads, largely because this required Financial Assessors to establish telephone contact with customers which was often difficult and time consuming.
Most staff respondents agreed that some of the downturn measures could and should become a permanent feature of the Jobcentre Plus business model, particularly the Focused Interventions and Optimising Customer Flows measures. Some staff expressed a preference for the measures to be optional so they can be implemented as and when required, according to local economic conditions.
Notes to Editors
DWP Research Report No. 668 - "Exploring staff perceptions of Jobcentre Plus downturn measures" - will be published by Corporate Document Services on 19th August 2010.
The research was qualitative in nature and involved 61 in-depth interviews with staff in 8 Jobcentre Plus offices across 4 regions. The fieldwork was conducted in October-November 2009.
The research was conducted by the Policy Research Institute at Leeds Metropolitan University. The authors of the report are Penny Wymer and Sukvinder Jassi.
Published 20 August 2010