Press release
Publication of DWP research report 650: The Operation of Choice in Multi Provider Employment Zones
A report is published today by the DWP which provides evidence on the operation of client choice within multi provider Employment Zones.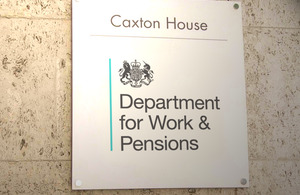 A report is published today by the Department for Work and Pensions which provides evidence on the operation of client choice within multi provider Employment Zones.
Employment Zones were introduced as a relatively intensive and long term employment programme. In 2004, multi provider Employment Zones (EZ) was established in six EZ areas and involved up to three contractors delivering provision. Initially mandatory clients were allocated to one of the providers on a pre-arranged contractual distribution of market share.  Since April 2007, the choice of provider was extended to mandatory clients claiming Jobseekers Allowance.
The key findings of the study are:
Support for choice amongst the Employment Zone clients with 78% feeling it was positive.
Clients accessed information from a range of sources before making a choice. However, a quarter (27%) said they did not access any information.
Several factors influenced clients' choice of providers: location of the provider; previous experience of a provider; recommendations from family and friends; and information and advice about the services provided.
Choice improved clients' attendance and increased levels of engagement. However, choice was also felt to have brought confusion for some clients.
Notes to Editors
The research report 650 - The Operation of Choice in Multi Provider Employment Zones is published on 24th June 2010. The report is available on the DWP website http://research.dwp.gov.uk/asd/asd5/
The study is based on findings from 972 telephone interviews carried out with EZ clients between November 2008 and February 2009. This was followed by in-depth interviews with EZ clients, providers and Jobcentre Plus staff carried out between June and October 2009. There were also a small number of non-participant observations of clients meetings.
The research was conducted by the National Centre for Social Research. The study is being published at the same time as Research Report 655: Development of a customer experience metric for contracted employment provision.
Published 25 June 2010