Press release
Publication of DWP in-house research report 1 'customer experience of future jobs fund: findings from a qualitative research study'
Findings from a qualitative research study into the experience of participants on the Future Jobs Fund (FJF) scheme.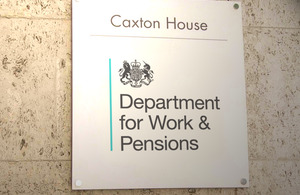 A research report is published today by the Department for Work and Pensions that documents findings from a qualitative research study into the experience of participants on the Future Jobs Fund (FJF) scheme.
The study comprised of qualitative research interviews with 89 FJF participants who had recently completed their six month placement at the time of interview.
The key findings from this research are as follows:
Before starting FJF, many participants reported experiencing a highly competitive and depressed labour market. A number of participants felt they would not have been able to get a job at that point without FJF.

The quality of supervision was high overall, although there were instances of poor supervision and organisation by the FJF employers.

Respondents had received varying levels of job search support whilst on their FJF placement.  Some had received limited or no job search support from their employers. Others had received a comprehensive package of help.

Almost all participants reported a significant increase in their skills set as result of participation although there was some variation in the breadth and depth of skills gathered. The most commonly mentioned skills gained were transferable skills such as interpersonal skills, customer service skills and IT skills. Formal qualifications and accreditations were also obtained by some participants.

Generally, an increase in self-confidence, perceived sense of employability and a concrete addition to their CV were seen as the most useful benefits of the scheme. Some participants also cited that the routine of work had re-orientated them to the benefits of employment.

The majority of participants felt more confident about their employment prospects after completing FJF and a number of the respondents had secured employment at the time of interview. Across the group there were changes in long-term aspirations as a result of participation in terms of considering new careers, improved motivation and confidence to pursue goals.

Overall, the evidence from this study suggests that FJF has been successful in preparing customers for work, particularly in terms of an increased skills-set; improved self-confidence and motivation; and providing a significant input onto their CV. However, there is a risk that some of the benefits could dissipate without a swift transition into a unsubsidised job.
Notes to Editors:
The DWP In-house Research Report 1 'Customer Experience of Future Jobs Fund: findings from a qualitative research study' can be found at http://research.dwp.gov.uk/asd/asd5/ihs-index.asp
This report gathers customer feedback on their experiences of FJF including details of the skills and qualifications gains, impact on confidence and aspirations. It also reports on the job-search support received and initial feedback on their transition into the open labour market after completing the six month post.
This report does not provide statistics on the outcomes of FJF participants. Some early quantitative analysis of benefit outcomes for a cohort of FJF participants has recently been published on the DWP website: http://statistics.dwp.gov.uk/asd/asd1/adhoc_analysis/2011/early_analysis_of_fjf_participant_outcomes_march2011.pdf
The research was carried out internally by researchers within Department for Work and Pensions.
The authors of DWP In-house Research Report 1 are Janet Allaker and Sarah Cavill of the Department for Work and Pensions.
Published 16 May 2011