Press release
Public views sought on Howsham fish pass plan
Consultation on options for helping migrating fish, eel and lamprey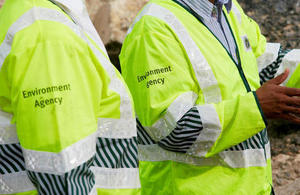 The Environment Agency is seeking public views on proposals to install a lamprey, fish and eel pass at Howsham Weir on the River Derwent in Yorkshire.
A consultation will run from Thursday 30 June to Thursday 8 September to allow people to comment on the plans and raise any issues they would like taken into consideration before plans are developed.
Howsham Weir, situated where between York and Malton, has been targeted for improvement because it prevents migrating fish, eel, and lamprey from accessing breeding and feeding grounds upstream.
The weir also prevents species from re-colonising the river upstream after flooding, drought or pollution incidents.
The Environment Agency wants to consult with interested parties because this stretch of river and the weir is popular with other river users, including canoeists and anglers.
A public drop-in event will be held at Welburn Village Hall on Monday, 18 July, from 4pm to 7pm, to allow people to find out about the plans and discuss the options.
Ineke Jackson, project manager at the Environment Agency, said:
Installing a fish passage at Howsham Weir would help lamprey, fish and eel populations that are prevented from reaching upstream spawning grounds. However, the river is used by a wide variety of people and we want them to be involved in helping us find the best solution.
People with an interest in this stretch of the Derwent are urged to get involved in the consultation and call in at the drop-in event if they want to discuss the proposals face-to-face.
Information on the consultation will be available online from 30 June on the Gov.UK website. Further information can also be obtained by calling the Environment Agency's contact centre on 03708 506506.
Published 28 June 2016