Press release
Public transport Games 'delivered' says London 2012
Record-breaking numbers used road and rail to venues across the UK.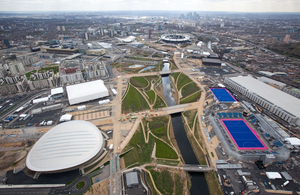 More than 900,000 spectators used park-and-ride, shuttle buses, accessible services, direct coaches, and special walking and cycling routes, to get to nine venues outside London during the Olympic Games. The figures come from the Olympic Delivery Authority (ODA), which developed the transport plan for the Games, covering the London venues and the rest of the UK.
As well as funding Transport for London's extra services, the cost of spectator Games travelcards, and extra and longer National Rail trains, the ODA ran its own directly-managed services to give spectators a range of options to get to their venues. Feedback from users described them as 'brilliant', 'exceptional' and 'great service'.
At least 18m spectator journeys were made to and from Games events in and around London during the Olympic Games, and millions more trips were made as people attended the Olympic road events and visited Live sites across the city. The ODA's partner organisations ran more frequent and extra late services, with real-time customer information from thousands of travel assistants at stations.
The ODA invested £429m to produce a legacy of improvements to the transport system, including £281 million for projects in the capital delivered by TfL. These included DLR infrastructure upgrades, a revamp of Stratford station and modernisation of the North London Line. Three car DLR trains have been a key factor in its record-breaking Games-time performance, with more than 6m journeys; 100 per cent more than usual. And 1.4m people used the high-speed Javelin service, designed and funded by the ODA, between St Pancras and the Olympic Park.
Now the ODA is gearing up for the world's second biggest multi-sports event, the Paralympic Games, which starts in two weeks time. There are fewer venues but the same mix of travel options is being offered. [Full details in Notes to Editors.]
It wants spectators to plan their trips now, get the best deals, avoid a last-minute rush and so ensure they don't miss a minute of the action. They can find out more and book online at www.getaheadofthegames.com
Successes during the Olympic Games included:
More than 200,000 spectators using park-and-ride and rail shuttle buses to get to the Rowing and Canoe Sprint venue at Eton Dorney

A more than ten-fold increase in usage of a park-and-ride facility at Weymouth and Portland (Sailing) when it was made free of charge to encourage visitors to come to the Dorset towns

Providing hundreds of additional bicycle racks at Weymouth and Portland in response to sharply rising demand

Free on-demand shuttle services for disabled people being used by more than 58,000 individuals, making 7,000 trips

Over 16,000 people booking Blue Badge spaces funded by the ODA
Hugh Sumner, the Olympic Delivery Authority's Director of Transport, said: 'The Olympic Games are a challenge unlike any other, and not just for the athletes. We used a wide range of data to predict the way people would want to travel. We were confident the transport system would cope, but we had to plan for every eventuality and build in extra capacity where it might be needed.
'Shuttle services were popular, demand for trains topped expectations and park-and-ride was preferred for some venues. London 2012's commitment to a public transport Olympics has been delivered. Now we are learning from our experience as we fine-tune plans for the Paralympic Games. We want them to be just as big a success and spectators to book now to be sure of a stress-free day-out at their Paralympic events.'
At the Rowing and Canoe Sprint venue at Eton Dorney:
89,000 spectators used four park-and-ride sites to get to the venue;

117,000 travelled by train and used free shuttle bus services from three local stations to reach the course;

The number of spectators moved averaged 18,000 a day.
At the Sailing venue at Weymouth and Portland:
More than 75,000 people used park-and-ride services, including 12,500 alone on the day Ben Ainslie won his Olympic title;

Customers at the Monkey Jump site rose by 1,171% when charges were lifted to encourage people to visit the Dorset towns;

Cycle provision was expanded from 500 bike racks to 800 to cope with an increase in demand.
At the Canoe Slalom venue, the Lee Valley White Water Centre in Hertfordshire:
Almost 10,000 spectators were brought to the Canoe Slalom venue from two major park-and-ride sites in Hatfield and North Weald

More than 35,000 people were moved by rail to the venue
At the Hadleigh Farm Mountain Biking venue:
Nearly 20,000 people used park-and-ride to get to Hadleigh Farm for the Mountain Biking competition

And nearly 15,000 people used rail services and free shuttle buses to get to Hadleigh Farm
At the five football venues outside London, at Cardiff, Coventry, Glasgow, Manchester and Newcastle:
Almost 300,000 spectators used park and ride, shuttle buses and special walking routes to get to football venues outside London

Over 55,000 people used the city centre and rail shuttles in Coventry
Spectators got in touch with the Olympic Delivery Authority to pay tribute to the services. Simon Kent, who used the park-and-ride service at Eton Dorney twice, described it as 'brilliant', saying that parking was well thought-out with helpful staff. 'I couldn't find fault if I tried,' he told the ODA.
Paul Brown e-mailed the ODA to praise the 'exceptional' park-and-ride service from Thurrock to the Olympic Park, while Jane Baldwin travelled by park-and-ride to Old Trafford in Manchester and the Lee Valley White Water Centre in Hertfordshire and said she said received 'great service'.
Stephanie Pollard from Dorset was impressed with services at Weymouth and Portland: 'I went to the sailing and my family and I had an absolutely wonderful time. We were very impressed with the level of organisation (the park and ride was brilliant, loved the new buses!) and the friendliness of the staff at the Nothe.'
Notes to Editors:
During the Paralympic Games the ODA will be running and/or managing:
Accessible shuttles and blue badge parking at all venues other than Weymouth and Portland, where services will be provided by the local authority

Rail shuttles to Brands Hatch (Road Cycling) from Sevenoaks station; to Eton Dorney (Rowing) from Slough and Windsor and Eton Riverside stations; and to North Greenwich Arena (Wheelchair Basketball) from Charlton station

Park-and-ride services for the Olympic Park and ExCeL from Thurrock, and for Eton Dorney from Upton Court Park and Stafferton Way

Walking routes from a car park serving Brands Hatch, and other special walking and cycling routes

Coaches direct to the Olympic Park and ExCeL from Aylesbury, Banbury, East Grinstead, Horsham, Kettering, Luton Airport Parkway, Milton Keynes, Northampton, Tonbridge, Wellingborough, and Winchester
Published 15 August 2012