Public shows overwhelming gratitude for Armed Forces' contribution to Olympics
Members of the public have written in their thousands to post messages of thanks for the Armed Forces' contribution to the London 2012 Olympic Games.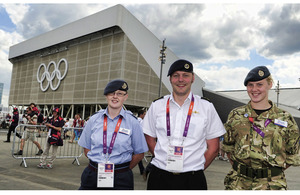 During the Games, the UK Armed Forces played a key role in providing some additional specialist support to the police, and other civil and Olympic authorities, to ensure the Games were safe and secure. Support will also be provided for the upcoming Paralympic Games, which run from 29 August to 9 September.
The support and appreciation shown by members of the public for the way in which the Armed Forces have conducted their duties has been overwhelming and very gratifying for Service personnel.
The Armed Forces were very proud to play their part, and look forward to doing so during the Paralympics.
The public reaction and response to their support has been wholly unexpected but very welcome indeed.
Just a few examples include Sarah Outwin, who wrote to say:
Just to say a big thank you to all the Service personnel who took part in the Olympics. Quite apart from the success of the games it made me feel proud to be British knowing that we have such wonderful Armed Forces.
On the HM Armed Forces Facebook page, Natasha Peters wrote:
It couldn't of happened with out u all there. Thanks girls and guys, u did great as always, u should be very proud of urselves as should the whole of the UK.
Janis Milnes wrote:
Well done to the Armed Forces I met some of you at the Tennis and such nice helpful friendly people. Thanks All.
Meanwhile, Stephen Rees simply writes:
BRILLIANT!
If you would like to add any comments of your own, you can follow the link at the right-hand side of this page to the official HM Armed Forces Facebook page.
Published 15 August 2012