World news story
Public lectures organized by British Embassy Chisinau
British Embassy Chisinau invites you to a series of public lectures "Knowledge is GREAT" at the universities throughout Moldova.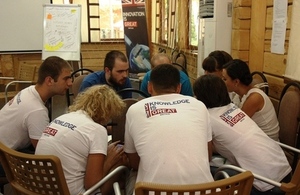 From December 2013 to March 2014, the British Embassy Chisinau is organising a series of public lectures entitled "Knowledge is GREAT". The lectures aim to raise people's awareness of how conflicts affect people's lives, their health and the community around them through examples from international speakers.
The British Embassy is at the forefront of conflict prevention work in Moldova and engaged in a range of confidence-building projects between the Left and Right Banks of the Nistru River. Our 2-in-1 lectures will get people talking and reflecting on various conflicts and peacebuilding from around the world in an attempt to broaden the understanding of human rights and to encourage positive engagement by communities in conflict resolution.
The goal is to inspire and empower people through our lectures and seminars so that they can decide for themselves, think outside the box and look for ways to build a better future for themselves and the area in which they live.
Every month the British Embassy will bring different international experts and professors to the University "Alecu Russo" in Balti, State University of Comrat, Transnistrian University named after T.G. Shevchenko in Tiraspol and to the Free International University of Moldova (ULIM) in Chisinau to speak on subjects such as challenges of healthcare in conflict, post-Apartheid truth and reconciliation commissions, Northern Ireland peace process and community engagement, as well as strategic communication in conflict prevention and resolution. /
Every public lecture is a 2-in-1 event, meaning that an open-doors public lecture as such will be immediately followed by a seminar targeting specialists and professionals in a certain area, for example health and law enforcement professionals, in order to provide them with in-depth knowledge and first-hand examples on the topic of the public lecture.
We are looking forward to hosting students, lecturers, professors, civil society representatives, journalists, specialists and professionals in various areas, as well as virtually everyone with a genuine interest in the topics of our public lectures!
Our speakers:
Peter Shirlow, Professor of Conflict Transformation at Queen's University in Belfast.
Professor Shirlow will talk about the conflict in Norther Ireland, the most sustained domestic conflict in Western Europe in the latter part of the 20th century. He will host a public lecture entitled "Northern Ireland: from the intractable to the negotiable" and a seminar - "Unpacking a frozen conflict" in the period 1-3 April 2014.
Online registration for taking part in the seminar is mandatory. For more information, please visit the official page of the event on Facebook.
Mr Chad Rogers has practical and research-based experience with the development of social media in pre-independence Kosovo and in Armenia. Chad was a successful speaker of TEDxChisinau where he spoke about the role of digital technologies in the modern world.
Mr. Rogers will host a public lecture entitled "Conflict vs. Contrast: Finding a healthy way to disagree in a post-conflict society" and a aseminar - "Delivering the Message: New Strategy and tactic for reaching citizens in a post-conflict, post modern world" during 3-6 March, 2014.
Online registration for the seminar is mandatory. For more information, please visit the Romanian and Russian links.
Dr Jaap Veen is a Dutch specialist with worldwide experience in working with health issues, in particular TB control. As a TB consultant providing technical assistance or reviewing TB control programmes, both in the civilian and penitentiary sectors, he has visited almost all countries in Europe and Central Asia, and many countries in Africa and Asia. Presently he works as an independent TB consultant.
From 9-13 December 2013, Dr Veen spoke on "Public Health without Borders" (public lecture) and on "TB Is Not a Sentence" (seminar) in Tiraspol, Balti, Comrat and Chisinau.
Mr Shuaib Chalklen, UN Special Rapporteur on Disability. Mr Chalklen will talk about Apartheid, system of racial segregation in South Africa (1948-1994) and the South African Truth and Reconciliation process and its outcomes. Mr Chalklen's experience is impressive: he has made extensive contributions to the advancement of persons with disabilities within both regional and global frameworks.
Published 26 November 2013