Press release
Public invited to give views direct on Birmingham City Council
Sir Bob Kerslake has invited local people to come and give their views direct on the performance of Birmingham City Council.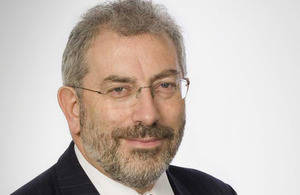 The senior civil servant, who is leading a review of the governance of the city council, wants to hear directly from those living and working in the city on how they think the town hall could improve.
A public meeting will be held at 6pm on 28 October in the Library of Birmingham.
Sir Bob will be joined by members of the review's advisory panel who have all been spending significant time in the city since their work began in September, meeting with both members of the community and the council.
With space limited, members of the public keen to attend should register in advance by sending an email with their full name to KerslakeReviewEvent@Communities.gsi.gov.uk. Places will be given on a first come, first served basis.
Issues raised at this meeting will feed into a report which is to be completed by the end of the year, which will make a series of recommendations on the council's structure and performance.
Speaking ahead of the public meeting, Sir Bob said:
Birmingham is a vibrant, dynamic city, so as part of my review, it is important that I hear direct from the people who live and work here. As I have said in the past, this is very much an open call for evidence and I would like to ensure that the report represents the views of those living and working in Birmingham.

Having held a series of meetings with individuals, institutions and organisations from both the public and private sector, now is the right time to hold a public meeting to see if what I've heard matches with the views of those living, working and studying in Britain's second largest city.
The focus of the discussion will follow the lines of inquiry, which are:
structure and size of Birmingham City Council
clarity of strategic leadership and direction
managerial capacity to deliver the council's priorities
role of the council in representing the community
financial planning and sustainability in the medium and long term
performance management and accountability
the council's approach to partnership
This public meeting follows on from a series of meetings that Sir Bob and the panel have had with officials and politicians in the council, local government, voluntary and charity sector, Members of Parliament and business owners in Birmingham.
Members of the public can also continue to submit questions to Twitter on @KerslakeReview or send their views by email to KerslakeReviewEvent@Communities.gsi.gov.uk
Further information
On 22 July 2014, Sir Albert Bore, Leader of the City Council and the Secretary of State for Communities and Local Government, Eric Pickles announced that Sir Bob Kerslake, Permanent Secretary in Department for Communities and Local Government would undertake an independent review at the council. Sir Bob Kerslake will report back to the Leader of the City Council and Secretary of State by 31 December 2014.
On 5 September, Sir Bob Kerslake, launched a call for evidence at the start of his independent review into the operation, culture and structure of governance at Birmingham City Council. He also announced the names of an advisory panel, comprised of senior politicians and local government chief executives who will support him.
Office address and general enquiries
2 Marsham Street
London
SW1P 4DF
Contact form http://forms.communiti...
General enquiries: please use this number if you are a member of the public 030 3444 0000
Published 21 October 2014
Last updated 22 October 2014
+ show all updates
Amended public meeting date.
First published.