Press release
Public information exhibitions for A1 Leeming to Scotch Corner improvements, North Yorkshire
Road users and local residents are being invited to attend public information exhibitions to update them about the work that is taking place to upgrade part of the A1 in North Yorkshire to a three-lane motorway.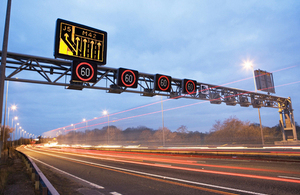 Work to widen an 11 mile section of the A1 between Leeming and Scotch Corner, and to create an alternative route for local traffic, started earlier this month. The scheme will unlock growth and boost the economy by creating a continuous motorway-standard route between London and Newcastle (including the M1 and A1M). It will also improve journey times and increase safety.
Public information exhibitions will be held at Catterick Racecourse on Friday 21 (2pm to 8pm) and Saturday 22 March (10am to 4pm). Highways Agency staff will be on hand to explain more about the scheme and how the construction work may affect road users and residents.
Highways Agency senior project manager Sandie Forte-Gill said:
We are pressing ahead with work on this important upgrade scheme, which will deliver significant benefits to road users and businesses in both the local area and beyond.

The exhibitions are a chance for road users, residents and local businesses to find out more about what they can expect while the work is ongoing and once the scheme is complete, and we would encourage people to come along and speak to the project team.
The work is part of a £380m scheme to upgrade 12 miles of the A1 between Leeming and Barton to motorway standard. Work on the remaining section, between Scotch Corner and Barton, is subject to the outcome of a public inquiry into the route of the proposed local access road, which was held in February.
When the scheme opens to traffic in 2016/17, journey times between Leeming and Barton will be reduced by approximately 20 per cent, and over a sixty-year period, the improvements are predicted to save around 100 lives and prevent around 650 serious casualties. The work is also estimated to generate 750 jobs in the construction industry over three years.
Preparatory work on the site has been underway since January. The work currently requires various overnight lane closures on the A1 and temporary traffic lights on local roads. From Friday 4 April, work will get underway to install narrow lanes and 50mph speed limits on both carriageways of the A1 between Catterick North and Catterick South only. Work on the remaining sections of the A1 is due to start after Easter, and more details will be available nearer the time. For more information on the scheme, visit the Highways Agency's website
General enquiries
Members of the public should contact the Highways Agency Information Line on 0300 123 5000
Media enquiries
Journalists should contact the Highways Agency press office on 0844 693 1448 and use the menu to speak to the most appropriate press officer
Published 14 March 2014