News story
Public Health England (PHE) welcome's BINOCAR annual report on congenital anomalies
The latest annual report on congenital anomalies has been published by the British Isles Network of Congenital Anomaly Registers (BINOCAR).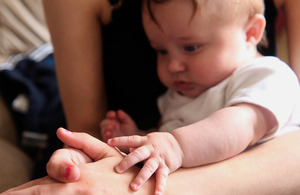 This report contains information on the number and prevalence of congenital anomalies, trends over time, timing of diagnosis and outcome, rates of terminations of pregnancy, prenatal detection rates of FASP anomalies, infant mortality, maternal age, geographical variations and a spotlight on congenital diaphragmatic hernia.
Jem Rashbass, National Director of Disease Registration at Public Health England, said:
We welcome this latest report from BINOCAR on the excellent work that this group has done to capture important details on this wide range of conditions. We also recognise that at present data is only collected from just over one third of the population; Public Health England is committed over the next 2 years to expanding coverage of congenital anomaly and rare disease registration to the whole of England.
Published 15 October 2013