Public given power to track crime outcomes on Police.uk
For the first time the public will be able to track online what happened after a crime was committed in their neighbourhood.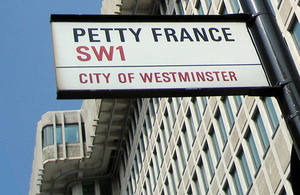 For the first time the public will be able to track online what happened after a crime was committed in their neighbourhood, with new data published on the government's crime mapping website today.
In the next stage of development of the groundbreaking website Police.uk, residents will not only be able to access street level crime data but also see what action the local police have taken as a result.
The site will also start to show whether offenders went to court; increasing transparency in the criminal justice system.
Minister for Policing and Criminal Justice Nick Herbert said:
'The public don't just want to know what crime is being committed in their local area; they want to know what is being done about it.  Did the person who smashed a shop window get arrested? Has the person stealing from the local newsagents been arrested and sent to court?
'The Police.uk site is helping to revolutionise the way the police and the wider criminal justice system are held to account by making this information available at the touch of a button. It will help drive up performance and allow the public to make informed choices in the upcoming elections for Police and Crime Commissioners.'
The additions to the site come after the public showed a huge appetite for more information on every aspect of crime in their area, with more than 47 million visits on Police.uk since it launched in January 2011.
Police.uk has already undergone a series of innovative updates, providing the public with more criminal justice information than ever before. This includes mapping crimes at points of interest including supermarkets and nightclubs, introducing new crime categories such as shoplifting, and increasing accuracy by placing crimes to within eight postcodes instead of 12.
Notes to editors:
The work to provide justice outcomes on Police.uk has been taken forward by the Home Office, National Policing Improvement Agency, the Ministry of Justice and police forces across England and Wales.
The UK government has already made more open datasets available than any other government in the world. This open data is making public services such as justice, transport, health and education more transparent and accountable. It is also driving economic growth as it used to create useful applications.
The government will publish further open data commitments and set out a robust framework to strengthen access to data shortly.
The UK is now co-chair of the international Open Government Partnership, helping to drive openness and prosperity globally.
For more information contact the Home Office press office on 020 7035 3535.
Published 31 May 2012