Press release
Public drop-in for residents at risk of flooding in Cinderford
The Environment Agency is holding a public drop in session on Thursday 14 July at Steam Mills Primary School, Cinderford, Gloucestershire.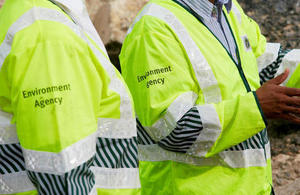 The aim of the drop-in event, to be held between 6pm and 9pm, is to ensure local residents from Drybrook, Nailbridge, Steam-Mills, Ruspidge and Upper Soudley are aware that these areas have been identified as at risk from flash flooding.
Staff from the Environment Agency will be on hand to offer advice on what can be done to protect you and your family if you find yourself in this situation. They will explain what the signs are for flash flooding, and some of the measures you can take to stay safe and reduce the possible damage to homes, lives, businesses and belongings.
Flash floods occur extremely quickly and are often flowing as fast as rivers. They tend to happen when heavy rainfall runs off land and quickly swells rivers and streams. Water can also build up quickly in urban areas when rainfall is unable to drain away.
Martin Young, Flood Resilience Officer, said:
This type of flooding is rare, however with climate change the risk is increasing. Recent flooding in London and Carlisle, as well as over France and Germany, where lives were lost, have demonstrated this. This poses a real risk to life and we want to help people prepare themselves should flash flooding happen in their area.
Published 5 July 2016