Public Disorder - support for business
Vince Cable - Written Ministerial Statement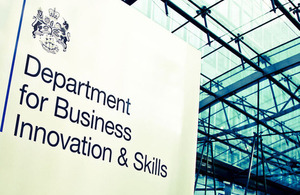 The appalling criminality we have seen across England in recent days has devastated not only local communities but also a very significant number of businesses.
BIS and other Government Departments are working with local enterprise partnerships, local authorities and business organisations to ensure affected businesses have access to practical advice, information and support to get back on their feet as quickly as possible.
I would like to set out what help and advice we can offer these businesses:
Insurance
**Businesses which have suffered loss should obtain a crime number from the police and contact their insurers immediately. **We are working closely with the insurance industry to make sure that all claims from affected businesses are dealt with swiftly and satisfactorily. The Association of British Insurers (ABI) have confirmed that insurers' priority is to help business through this traumatic period. Insurers are working as quickly as they can to deal with claims and most have 24 hour call centres.
The ABI advise us that their member companies will be on hand to answer any questions that affected businesses may have. Most commercial insurance policies will cover businesses for damage to their premises, including the interruption to their business as a result of fire, looting and the other damage caused by the recent riots. Some policies will also cover those businesses which are not damaged but whose trade has been affected by the aftermath.
Any uninsured individual, homeowner or business that has suffered damage to or loss of their buildings or property as a result of rioting, can seek compensation from their Police Authority under the Riot Damages Act. It is normally the case that claims must be received within 14 days but to give people more time to submit these claims **the Home Secretary is extending the period to 42 days. **
To claim, download and complete a claim form
Online information and advice
Our online resource for business, www.businesslink.gov.uk, has already been updated with practical advice and information on business continuity, risk management, and safety guidance. The business link national helpline number is 0845 600 9006.
This is in addition to advice issued by local police forces and specific information circulated by relevant trade associations.
High Street Support Scheme
Affected businesses will also be able to call upon help from the new £20 million High Street Support Scheme that I am announcing today jointly with the Secretary of State for Communities and Local Government.
The flexible scheme will be aimed at supporting the specific streets and areas where businesses have suffered most as a result of the disturbances.
Authorities will be able to use it to:
-fund the proportion of hardship relief from business rates that would otherwise fall to them.
-help affected firms to get back up and running quickly, for instance if assistance is needed with business clear-up, replacement of equipment, or costs of temporary accommodation.
We will keep the steps we have taken under review. This is an evolving situation and we are working to assess the cost to affected businesses.
Business Rates
Central government will fund three quarters of the cost of hardship rate relief to give businesses in need relief from business rates. Through the High Street Support Scheme we will also cover the proportion normally borne by local authorities.
Seriously damaged business properties will be taken off valuation lists, and the Secretary of State for Communities has strongly encouraged the Valuation Office Agency to do so as promptly as possible. This removes any liability for council tax or business rates.
Access to Finance
We are working closely with the British Bankers Association to ensure that affected businesses of all sizes, but especially small businesses, receive help.
Where businesses have been affected by the recent rioting banks have put in place special arrangements to make sure that emergency enquiries from affected customers can be dealt with simply and quickly.
Banks have put in place numbers for customers to call, teams are available inside the banks to help and business relationship managers are getting in contact.
The banks will sympathetically and sensitively consider the problems of each business. Additional financial support will be available should it be required to provide solutions for the affected businesses.
These include for example, where necessary making available short to medium term finance arrangements for repairs and to replace stock, and repayment holidays until insurance claims are settled.
Bank **Business Contact Number **
Bank of Scotland 0845 300 0268
**To make an insurance claim call - **0844 893 9582.
For general enquiries call - 0800 048 4363
Barclays 0845 605 2345
HSBC 08457 606 060
Lloyds TSB 0845 072 5555
To make an insurance claim call - 0844 893 9580
For general enquiries call - 0844 893 9560
NatWest 0800 158 5977
RBS 0800 092 3087
Santander 0800 056 1991
Tax
HMRC will delay tax payments for businesses needing help through Time to Pay and will offer other practical support.
They have today announced a single, Civil Disorder Help Line number - 0845 3661207 to provide comprehensive advice. They will deal sympathetically with problems currently faced by businesses and individuals, including:
Agreeing payment schedules, including short tem deferrals, with those who are unable to pay their tax bills due to temporary financial difficulties.
Practical solutions where businesses and individuals cannot meet their other obligations - for instance, if their records have been lost or destroyed in the disturbances.
Companies House
If any affected business will be unable to file accounts or other documents on time as a direct result of the disturbances, Companies House will agree an extension and ensure that companies do not incur the usual penalties which apply for late filings.
ACAS
Acas have issued advice on good practice regarding management of employees in these circumstances.
This includes advice and information about the legal position for employees and employers especially where there is disruption to normal working hours.
I would like to express my appreciation to those business organisations whose members have been affected and who have responded with urgency to provide advice and support at this difficult time.
I would also like to thank all their members and local branches who have worked closely with the police.
The Government recognises that the impact on business will continue beyond this immediate recovery period, and we will continue to work together with business organisations to identify what longer term help is needed.
This is particularly true of our high streets which the Government is committed to supporting and promoting. We will also work with the foreign investor community to restore confidence in the UK as a destination for investment. BIS Local will work closely with local enterprise partnerships and local authorities to secure a prosperous and vibrant future for our local high streets.
Links
Published 11 August 2011