Press release
Public consultation begins on route options for a new M54 to M6/M6 Toll link road in Staffordshire
Road users and members of the public are being invited to find out more about the Highways Agency's plans to provide a new link road between the M54, the northbound M6 and the M6 Toll.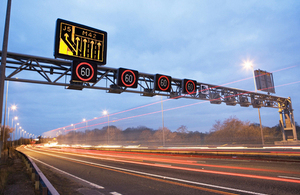 An eight-week public consultation begins on Friday 5 December for the scheme, which will reduce congestion on local roads, improve safety and support economic growth in the surrounding area.
Public exhibitions are being staged to explain more about the proposals at:
Featherstone and Hilton Community Centre, Baneberry Drive, Featherstone, Wolverhampton, Staffordshire WV10 7TR
Friday 5 December between 2pm and 8pm. Saturday 6 December between 10am and 4pm.
Shareshill Village Hall, 1 Elms Lane, Wolverhampton WV10 7JS
Sunday 7 December between 10am and 4pm.
Highways Agency Project Manager Bill Birkett said:
This scheme will keep the right traffic on the right roads. It will relieve congestion on local routes, providing more reliable journey times and making life easier and safer for businesses, commuters and local traffic.

A new link will create better traffic flow and improve routes for north-south and east-west traffic which will also support local economic growth for Telford, Shrewsbury, Wolverhampton, Cannock and Tamworth.

I would encourage as many people as possible to be part of this consultation to decide the route of the new link and have their say on the development of this important road.
From Friday 5 December a consultation leaflet will be available at the exhibitions, on the Highways Agency website and at a number of local deposit points. People can complete an on-line questionnaire on the scheme website below or submit comments to
M54 to M6/M6 Toll project team,
The Cube,
199 Wharfside Street,
Birmingham B1 1RN

or email M54toM6/M6tolllinkroad@highways.gsi.gov.uk
The consultation closes on 30 January 2015.
To stay up to date with the latest developments and, from Friday 5 December, view the leaflet visit the Highways Agency's scheme website, where you can also register to be kept informed about news on the scheme.
Published 20 November 2014