Press release
Provisional results: Guinea Legislative Elections
The UK welcomes the provisional results of Guinea's legislative elections.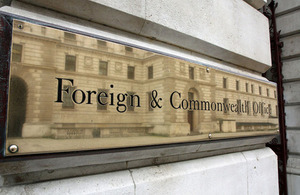 A Foreign and Commonwealth Office spokesperson said:
The UK welcomes the announcement of the provisional legislative election results in Guinea, after a patient period of vote counting following the elections on 28 September. The UK reiterates its appeal to all parties to act responsibly and with restraint, and to pursue any disputes regarding the results through the proper legal channels.

The UK now looks forward to the establishment of the new National Assembly, reflecting the aspirations of Guinea's people to strengthen democratic institutions and increase economic and social development.
Further information
Follow the Foreign Office on twitter @ForeignOffice
Follow the Foreign Office Travel Advice on twitter @FCOtravel
Follow the Foreign Office on facebook and Google+
Published 21 October 2013