Protection from malaria in Mozambique
More than five million people - one million of them children under the age of five - will be protected from malaria in Mozambique with help from the British Government.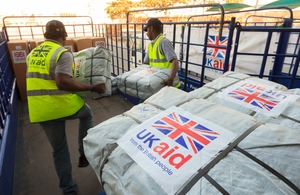 The UK will support the distribution of 2.2 million life-saving bednets, enough for a quarter of the population to sleep safely under, International Development Minister Stephen O'Brien announced today during a visit to Mozambique.
Mozambique is a malaria hot spot with 4 million suspected cases reported every year. Malaria accounts for 42.3% of deaths of children under five and 19% of all maternal deaths.
British support will fund the distribution of the bednets by the National Health Service of Mozambique to areas of the country where they are most needed.
Half will be delivered to ante-natal clinics to be given to new and expectant mothers. They are particularly at risk from malaria with an estimated 10,000 women and 200,000 infants dying globally each year as a result of malaria during pregnancy.
The other half will be delivered directly to households with children under five in Niassa, Cabo Delgado, Tete, Sofala and Inhambane. These are areas of the country not covered by indoor insecticide spraying, which kills the mosquitoes that cause malaria.
The bednets have been provided by the Global Fund to Fight AIDS, TB and Malaria, which is part-funded by the British Government.
Delivery of the nets forms part of the British Government's landmark plans to halve malaria deaths in at least 10 African countries with high burdens of the disease by 2015, announced last December.
International Development Minister, Stephen O'Brien, said:
"Protecting a quarter of Mozambique's population from malaria takes us a giant leap towards achieving our goal of halving deaths from the disease in four years.
"This is practical help that will start protecting families as soon as the bednets are delivered and will save an estimated 4,600 lives and prevent two million cases of malaria by 2015.
"It's a scandal that more than 784,000 people die every year from malaria - with one child in Africa dying every 45 seconds from the disease. 
"That is why the British Government will be relentless in driving down the terrible loss of life from malaria."
Professor Michel Kazatchkine, Executive Director of the Global Fund to Fight AIDS, TB and Malaria, said: "The British Government is adding real value to its investments in the Global Fund by further supporting the distribution of bednets in Mozambique."
Malaria accounts for 40% of all heath care costs in many African countries, placing huge burdens on households and already struggling health facilities.
The disease costs the continent of Africa $12 billion per year and it is shown to have a detrimental effect on the economy, reducing a high burden country's GDP by as much as 1.3%.
In December, the Department for International Development launched a road map of how to drastically reduce malaria deaths.
It focused on high burden countries which account for 98% of all malarial deaths. It also outlined measures to reduce the spread of resistance to malaria drugs which threatens progress.
Published 17 March 2011