Protection for 4.7 million from malaria in Ghana
The UK government has announced aid to protect nearly 5 million people in Ghana from malaria, including nearly 1 million children under the age of five.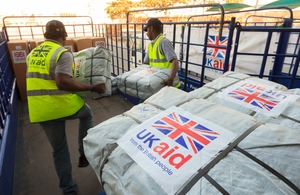 The British government will support a UNICEF programme to distribute over 2 million life-saving bednets as well as teach communities the importance of sleeping under them.
Ghana is a malaria hot spot with 3 million suspected cases of malaria are reported every year. In 2007 malaria accounted for 22% of deaths of children under five and 9% of all maternal deaths.
Making the announcement during an official visit to Ghana, International Development Minister Stephen O'Brien said:
"It's a scandal that more than 850,000 people die every year from malaria which is a preventable disease - in Africa a child dies from malaria every 45 seconds.
"Ending preventable deaths from the disease is a priority for British Government and making better progress in high burden countries such as Ghana will be crucial to our efforts.
"This support alone will save the lives of an estimated 15,000 children by giving them a bed net to sleep under and teaching them the importance of using it.
In September Deputy Prime Minister, Nick Clegg, announced that the UK will help halve the number of deaths caused by malaria in at least 10 African countries by 2015 at the UN MDG summit in New York .
In December, the Department for International Development (DFID) will launch a road map of how this drastic reduction in malaria deaths will be achieved and sustained.
The road map will focus on malaria hot-spots - high burden countries which account for 98% of all malarial deaths. It will also support measures to reduce the spread of resistance to malaria drugs which threatens progress.
In the past vital resources for malaria have been wasted because poor diagnostics mean anti-malarial treatments are given to people who have fever but do not actually have malaria . The Government has committed to improving the diagnosis and treatment of malaria to ensure the most effective interventions reach the most vulnerable people.
Published 25 November 2010