News story
Protecting online copyright
Watch our short video explaining why advertisers should use the Infringing Website List.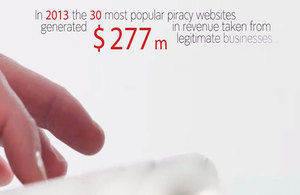 The Police Intellectual Property Crime Unit (PIPCU) in partnership with the creative and advertising industries, runs the Infringing Website List (IWL). The site is an online portal containing an up-to-date list of copyright infringing websites.
The aim of the IWL is that advertisers, agencies and other intermediaries can decide to stop advert placement on these illegal websites. This, in turn, disrupts the advertising revenue these sites generate.
If you like this, don't forget to check out the rest of our videos on the IPO YouTube Channel.
Published 29 March 2016