News story
Protect your designs on World Intellectual Property Day
This year the theme is 'Designing the Future'. Designs are about the way an object looks and developers can invest a lot of time and money into…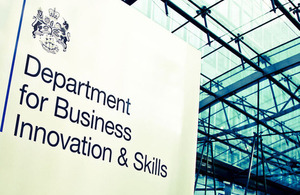 This year the theme is 'Designing the Future'. Designs are about the way an object looks and developers can invest a lot of time and money into making sure their designs are fit for purpose.
Minister for Intellectual Property Baroness Wilcox said:
"Designs touch almost every part of our day to day lives, from the chairs we sit on to the phones we use. Registering your design with the Intellectual Property Office can offer protection against unauthorised copies and imitations.
"We are keen to encourage businesses to get their designs protected to allow them to reap the potential financial rewards of their innovations. Many people are unaware that you can register a design for just £60, granting exclusive rights that are renewable for up to 25 years.
"Today is about raising awareness of the importance to businesses of protecting their innovative ideas. Investing in their creativity and ideas now can help shape growth and success in the future."
For more information about World Intellectual Property Day visit the IPO website, www.ipo.gov.uk. Intellectual property represents the property of the mind or intellect. It can be an invention, trade mark, original design or the practical application of a good idea.
Notes to editors
The Intellectual Property Office (IPO) is within the Department for Business, Innovation, and Skills (BIS) and is responsible for the national framework of Intellectual Property rights, comprising patents, designs, trade marks and copyright.

Its role is to help manage an IP system that encourages innovation and creativity, balances the needs of consumers and users, promotes strong and competitive markets and is the foundation of the knowledge-based economy.

It operates in a national and an international environment and its work is governed by national and international law, including various international treaties relating to Intellectual Property (IP) to which the United Kingdom is a party.

The IPO website is today acting as a web portal for events that are taking place across the world as part of the day.

For further information, please contact Dan Palmer on 0207 215 5303 or e-mail communications@ipo.gov.uk.**
Notes to Editors
Contact Information
Name BIS Press Office Job Title
Division COI Phone
Fax
Mobile
Email NDS.BIS@coi.gsi.gov.uk
Name Dan Palmer Job Title
Division Department for Business, Innovation and Skills Phone 020 7215 5303 Fax
Mobile
Published 26 April 2011