Prosperity Fund: Brazil 2016 Bid Round is now Open
The Prosperity Fund promotes global sustainable growth. Brazil's Bidding Round closed 15 February 2016. Results will be announced on 2 May.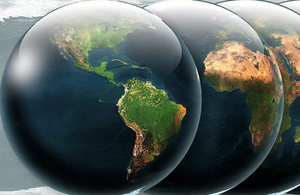 Prosperity Fund
The 2015 Strategic Defence and Security Review announced a £1.3bn Prosperity Fund over the next 5 years to promote the economic reform and development needed for growth in partner countries. Our priorities will include improving the business climate, competitiveness and operation of markets, energy and financial sector reform, and increasing the ability of partner countries to tackle corruption. As well as contributing to a reduction in poverty in recipient countries, we expect these reforms to create opportunities for international business including UK companies. The role of the Fund is also set out in the UK aid strategy, Tackling Global Challenges in the National Interest.
The Prosperity Fund will form a small but integral element of the UK's total Official Development Assistance (ODA) commitment of 0.7% of GNI. It will primarily be focused on ODA eligible middle income countries, contributing to poverty reduction and complementing DFID's work in poorer countries. In this way, the Fund will contribute towards meeting the new Sustainable Development Goals. ODA spend under the Fund will be fully consistent with OECD DAC criteria.
The Foreign & Commonwealth Office's programme funds seek to create real, measurable outcomes in support of the FCO's policy goals. Since 2011, the Prosperity Fund has supported the FCO's Prosperity Priority on opening markets, ensuring access to resources, and promoting sustainable global growth, mainly in the emerging powers.
Brazil Bidding Round
Much of the Prosperity Fund will involve multi-year programmes. As part of the first year of the Fund, initial competitive bidding processes will be administered in a number of countries for project initiatives, where organisations are invited to submit bids to embassies and high commissions for individual projects in support of Fund objectives.
The Brazil Guidance for Potential Implementers (See 9.5) sets out the arrangements for the bidding process for these projects, including rules governing ODA expenditure under the Fund. Decisions on initial country allocations will be taken in early 2016.
Brazil Prosperity Fund Objectives
In Brazil our initial bidding process invites bids in the following areas:
3.1 - Business Environment
Trade Openness & Efficiency Reform
Public Efficiency Reform
Financial Markets Development
Transparency and Justice System Reform
Tax Simplification
Objectives include: Improve Brazil's development and growth through a more efficient, competitive and transparent business environment. Support essential reforms of Brazil's openness to trade, further development of its financial market and improvement in the judicial management system management to tackle cases of bribery and corruption while improving transparency and efficiency levels. Deepen and internationalise Brazil's financial markets helping stimulate growth. Improve judicial processes aiming an anti-corruption environment in Brazil. Increase efficiency in the public sector using more quality for public spending.
3.2 - Education
Strengthening English language proficiency
Higher Education Promotion / internationalisation
Technical, Vocational, Teacher Training
Education technology and PPPs
Objectives include: Improve Brazil's education system by reforming of secondary and higher education, creating a strengthened technical, vocational and teacher training system, raising English language proficiency and promoting effective internationalisation. Improve education sector management, quality, leadership and public spending efficiency by promoting use of technology, and PPPs to improve delivery of education, address industry gaps and increase productivity;
3.3 - Health
Health Sector Reform
Innovation in Health
Objectives include: Support Brazil in setting up the structures and systems needed for patient-oriented, cost effective healthcare, helping Brazil to adopt the eHealth digital system. Support Brazil in implementation of pilot programmes in states where there is currently no or little primary care provision, helping to design a comprehensive local health system;
3.4 - Infrastructure
Financing for Infrastructure: Public Private Partnerships
Infrastructure policy, legal and regulatory reform
Smart Cities
Objectives include: Encourage the implementation of PPPs to deliver effective infrastructure projects throughout Brazil. Support infrastructure sector reform, helping to improve procurement laws, financial guarantees, and the quality of project management. Improve sustainable urbanisation and the concept of smart cities through innovative solutions, supporting areas such as urban mobility, water and waste management, and sustainable social housing.
3.5 - Low Carbon and Energy
Climate Policy Instruments & Climate Finance
Low Carbon Technologies and Green Growth
Energy Security
Renewables
Oil and Gas
Objectives include: Help Brazil to increase its energy production to meet the needs of a growing population while remaining environmentally sustainable through world-class advice on policy and technical solutions. Support Brazil to develop its rapidly growing renewable sector and its oil and gas potential. Encourage green growth, developing Brazil's market for low carbon goods and services and helping Brazil mobilise public and private sector finance. Support low carbon development and green growth in leading sectors of Brazil's economy.
Transversal Themes
Innovation and Transparency are cross-sector themes mainstreamed through all the areas. Strengthening state capacity and institutional development are the foundations for the Prosperity Fund approach in Brazil.
Eligibility
The Prosperity Fund accepts project proposals from the Brazilian government and from implementing agencies (civil society, think-tanks, commercial organisations);
The primary beneficiary of the project proposal submitted to the Prosperity Fund must be Brazil, in line with DAC criteria;
All proposals must include a governmental beneficiary (any of the 3 levels or agencies);
Proposals may include more than one implementing agency;
In the case of proposals submitted by an implementing agency, proposal must include evidence of Government engagement and support. If they were not consulted, the project proposal should explain how the project will engage the necessary stakeholders to attain buy-in;
Project proposals must contribute directly to the objectives and support at least one of the key areas listed on Brazil Prosperity Fund objectives;
Project proposals must be submitted in the Concept bid form (See 9.1) for the Concept Stage and in the Full bid form (See 9.2) for the Final Stage;
Proposals focusing purely on research, analysis, seminars or workshops will not be relevant unless they lead to specific and measurable actions;
Proposals should outline impact and clearly state what transformational changes the project will generate;
Proposals should demonstrate that the project will produce sustainable outcomes.
Only proposals with a minimum value of £150k and up to £300k will be accepted;
The bids should consider that the projects must be implemented within the British Fiscal Year (April 2016 to March 2017);
Contract signing is subject to due diligence which all implementing agencies must undergo.
Co-funding is not required but encouraged either in kind or in cash.
Appraisal Criteria
Please refer to page 11 of the Brazil Guidance for Potential Implementers (See Documents for Download below);
Bidding Process
The bidding round is an open and competitive process, assessed by a Board comprised on thematic leads and independent experts, carried out in two stages: Concept Stage and Final Stage.
The deadline for submission of concept bids is 15 February 2016. Proposals received after this deadline will not be considered. Successful bidders will be informed by 12 March and called to present a full bid. Unsuccessful bidders will not be contacted.
The deadline for submission of Full Bids is 28 March 2016. Successful bidders will be informed on 26 April. Feedback to unsuccessful bidders will be provided.
Timeline
The following are the key dates and deadlines for the bidding round process:
| Date | Activity |
| --- | --- |
| Feb 15 | Deadline to receive Concept Bids |
| Mar 11 | Concept Board |
| Mar 14 | Feedback successful bidders |
| Mar 28 | Deadline to receive Full Bids |
| Apr 29 | Final Board |
| May 2 | Feedback successful bidders |
| May 16 | Project Implementation Start |
*Bank holidays: Feb 08,09,10 / Mar 25 / Apr 21
The deadline to receive signed contracts is 13 May 2016 (the contract used is a standard FCO contract and cannot be modified).
Large-Scale Projects
Proposals for the 2016-17 financial year should consider that the FCO will also be launching a call for large-scale projects mid-2016, to start in 2017. This means that current proposals must consider the possibility of expanding into larger projects after one year of implementation. More details on the budgets and governance are yet to be confirmed.
Contact
All proposals should be submitted in English by e-mail with the title "Brazil Prosperity Fund 2016: Name of the implementer – Name of the project" to the e-mail address: Prosperity.Bidround.Brazil@fco.gov.uk.
Documents for Download:
Published 8 January 2016