Proposals to enable children to see both their parents are launched
Plans to strengthen the law so children continue to see both parents if they separate have been put forward by ministers today.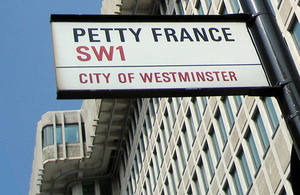 The Government believes that where it is safe and in the child's best interest, the law should make it clearer that children benefit from having both parents actively involved in their lives, with both sharing responsibility in decisions about their upbringing.
The majority of parents who separate reach their own agreements for their children. However, Ministers are concerned that when disputes arise one of the first things that can be overlooked is ensuring children have a strong relationship with both parents.
Children's Minister Tim Loughton said:
'Our starting point is that we want most parents to resolve disputes out of court, wherever possible - that's why we are investing in and promoting family mediation services and other support to help parents reach agreements in their child's best interests.
'But we must improve the system where court cannot be avoided - where disputes are intractable or complex or children's welfare is at risk.
'We need to clarify and restore public confidence that the courts fully recognise the joint nature of parenting.  We want the law to be far more explicit about the importance of children having an ongoing relationship with both their parents after separation, where that is safe and in the child's best interests.
'Where parents are able and willing to play a positive role in their child's care, they should have the chance to do so. This is categorically not about giving parents equal right to time with their children - it is about reinforcing society's expectation that mothers and fathers should be jointly responsible for their children's upbringing.'
Current legislation sets out the clear principle that a child's welfare is always paramount in any family court decision about their future. But the benefit of ongoing involvement with both parents is not explicitly stated in law - although it is factored into decisions.
Ministers believe this creates a perception the law does not fully recognise both parents' roles and there is an inbuilt bias towards one or other parent.
Today's consultation sets out four options for amending the Children Act 1989 to enshrine shared parenting in law. Ministers believe this will encourage more separated parents to resolve disputes out of court and agree care arrangements that fully involve them both.
The proposals make clear that any change is categorically not about equality in time that a child spends with each parent after separation. They state explicitly, there is no intention that equal time, or indeed, any prescribed notion of an 'appropriate' division of time, should be the starting point of a court's consideration.
The consultation also asks how to toughen sanctions to enforce breaches of court orders regarding care arrangements - including, where there is a wilful refusal to comply with the court, short-term punitive action to protect the longer-term interests of the child.
 
The existing sanctions of a fine or imprisonment for contempt of court, or an order to undertake unpaid work, are not often used. The Government is considering extending these sanctions to reinforce the message that court orders are not the starting point in negotiations but are the court's considered decision about what is best for the child and must be abided by.
This plan was first proposed in February - as part of the Government's response to the independent Family Justice Review Panel.
Deputy Prime Minister Nick Clegg said:
'Both parents have a responsibility and a role to play in their children's upbringing and we want to make sure that, when parents separate, the law recognises that. Children should have the benefit of contact with both of their parents through an ongoing relationship with them. This is why we are publishing proposals today setting out that, where it is safe and in the child's best interest, the law is clear that both parents share responsibility in their upbringing.'
Justice Minister Jonathan Djanogly said:
'Far too often I see cases where parents automatically seek a court order to solve a dispute over the arrangements for their children. This is not the only or, in many cases, even the best option and I want all parents to know that.
'We want to see parents using mediation, where appropriate, before they begin court action. Mediation can be an effective alternative in these cases. It means separated families can find their own solutions for getting on with providing a stable environment for their children and avoid drawn-out court hearings.
'We want to send a strong message to any parent who ignores the arrangements ordered by a court. In the future, these breaches will be brought back to court within weeks and before the same judge wherever possible. If any parent flouts a court order then effective enforcement measures will be made available to the judge.'
Notes to editors
1. Family Law:
The final report of the family justice review was published in November 2011
The Government published its response to the independent family justice review in February 2012
The Queen's Speech in May 2012 said the expected Children and Families Bill would include legislation to strengthen the law on shared parenting
The Bill's Private and Public Family law provisions would apply to England and Wales
2. The consultation
Co-operative Parenting Following Family Separation: Proposed Legislation on the Involvement of Both Parents in a Child's Life
Four different approaches are being consulted for amending section 1 of the Children Act 1989
Option 1: requires the court to work on the presumption that a child's welfare is likely to be furthered through safe involvement with both parents - unless the evidence shows this not to be safe or in the child's best interests.
This is the Government's preferred option.
Option 2: would require the courts to have regard to a principle that a child's welfare is likely to be furthered through involvement with both parents
 
Option 3: has the effect of a presumption by providing that the court's starting point in making decisions about children's care is that a child's welfare is likely to be furthered through involvement with both parents.
Option 4: inserts a new sub-section immediately after the welfare checklist, setting an additional factor which the court would need to consider.
3. The Family Justice Review Panel drew heavily on international evidence in reaching its recommendation against a legislative statement to reinforce the importance of a child having an ongoing relationship with both separated parents. The research on the impact of Australia's 2006 shared parenting legislation was particularly influential on the Panel's decision. The Government has considered the implications of this research very carefully. The drafting of the legislative clauses presented in this consultation takes into account feedback we have already received about the need to avoid unintended consequences. In particular, these clauses reflect the need to:
maintain the principle that the welfare of the child is the court's paramount consideration
avoid the implication of any right to equal time with a child, or indeed any prescription over 'appropriate' levels of time
minimise the scope for litigation seeking to define the nature of the relationship with a parent that is in the best interests of a child.
Published 13 June 2012