News story
Proposals to cut risks for pharmaceutical sector
The Intellectual Property Office (IPO) is proposing to make changes to the Patents Act to make the system fairer by allowing clinical and field…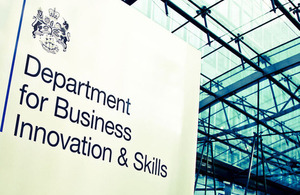 The Intellectual Property Office (IPO) is proposing to make changes to the Patents Act to make the system fairer by allowing clinical and field trials for new drugs to be carried out without risking being sued for patent infringement.
Marketing a drug in the UK, needs regulatory approval which requires conducting human clinical trials or animal field trials to show the product is safe and effective.
Under current UK patent law, limited research and tests can be conducted using patented products required for the regulatory approval of generic drug products without infringing the rights of the patent owners. However, clinical and field trials for new drugs are not exempt from patent infringement.
There are many instances where a company may legitimately need to use a patented drug in a clinical trial, for example to compare their new drug to a patented product, or to develop therapies which combine the use of their new drug and a patented product. Currently, if a pharmaceutical company uses a patented product as part of their trial they risk being sued by the patent holder. Today's proposals would remove this risk and create a more supportive environment for pharmaceutical research and development in the UK.
Minister for Intellectual Property, Lord Marland said:
"The UK needs an intellectual property system which supports our world class UK pharmaceutical industry that invests over £12 million in Research and Development every day.
"Our proposals look to remove the uncertainty around patent infringement in clinical and field trials, so that our life sciences sector continues to create jobs and growth in the UK economy "
The Intellectual Property Office's Chief Executive, Sean Dennehey said:
"Previous discussions with the pharmaceutical industry revealed a widespread appetite for change in the way UK patent law treats clinical or field trials. This consultation now offers a formal opportunity to shape the patent infringement provisions so that they can better support growth in this key industry sector.
"I look forward to receiving a wide response providing views and evidence enabling us to move in the direction which industry needs to succeed."
The consultation will run for eight weeks from 24 October to 19 December 2012.
**Notes to editors
**1. A generic drug is a pharmaceutical product, usually intended to be interchangeable with an innovator product, which is manufactured without a licence from the innovator company and marketed after the expiry date of the patent or other exclusive rights. Ibuprofen and Paracetamol are well-known examples of generic drugs.
An innovative drug a medicinal product that contains an active substance not previously approved for use in a medicinal product and that is not a variation of a previously approved active substance. They may be chemical or biological entities. Innovative drugs are usually more expensive than generic drugs as the companies manufacturing them have had to bear R&D costs, clinical trial costs etc. Examples of innovative drugs include Lipitor, Viagra and Zantac

Clinical trials are tests carried out while developing a drug to demonstrate that it is safe and effective. There are various stages of clinical trials which must be done before a drug is approved for use and given a marketing authorisation.

Field trials are clinical trials for a veterinary product.

Link to the Research and Bolar Exceptions consultation: http://www.ipo.gov.uk/consult-2012-bolar.htm

The Intellectual Property Office (IPO) is within the Department for Business, Innovation, and Skills (BIS) and is responsible for the national framework of Intellectual Property rights, comprising patents, designs, trade marks and copyright.

Its role is to help manage an IP system that encourages innovation and creativity, balances the needs of consumers and users, promotes strong and competitive markets and is the foundation of the knowledge-based economy.

It operates in a national and an international environment and its work is governed by national and international law, including various international treaties relating to Intellectual Property (IP) to which the United Kingdom is a party.

For media queries, please contact Veena Mapara on 020 7215 5614.

For emergency media calls out-of-hours please contact the duty press officer at the Department for Business, Innovation and Skills on +44 (0) 20 7215 3505.

The Government's economic policy objective is to achieve 'strong, sustainable and balanced growth that is more evenly shared across the country and between industries.' It set four ambitions in the 'Plan for Growth' (PDF 1.7MB), published at Budget 2011:

To create the most competitive tax system in the G20
To make the UK the best place in Europe to start, finance and grow a business
To encourage investment and exports as a route to a more balanced economy
To create a more educated workforce that is the most flexible in Europe.
Work is underway across Government to achieve these ambitions, including progress on more than 250 measures as part of the Growth Review. Developing an Industrial Strategy gives new impetus to this work by providing businesses, investors and the public with more clarity about the long-term direction in which the Government wants the economy to travel.

BIS's online newsroom contains the latest press notices and speeches, as well as video and images for download. It also features an up to date list of BIS press office contacts. See http://www.bis.gov.uk/newsroom for more information.
Notes to Editors
Contact Information
Name BIS Press Office Job Title
Division Department for Business, Innovation & Skills Phone
Fax
Mobile
Email bispress.releases@bis.gsi.gov.uk
Name Veena Mapara Job Title
Division Department for Business, Innovation & Skills Phone 020 7215 5614 Fax
Mobile
Published 24 October 2012