News story
Proposals published for £200 million network of Technology and Innovation Centres
The centre will be the first of an elite national network of centres, to be established and overseen by the Technology Strategy Board, that …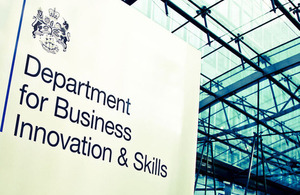 The centre will be the first of an elite national network of centres, to be established and overseen by the Technology Strategy Board, that will work in partnership with universities and businesses to help commercialise the results of research in specific technology areas where there are potential multi-billion pound global markets.
Deputy Prime Minister Nick Clegg said:
"The banking crisis made one thing completely clear: Britain needs a new kind of growth. It is not right, sensible or fair to be dependent solely on the City of London and on financial services. We should be at the cutting edge of science, manufacturing and technology. And this innovation should be happening in towns and cities across the UK, creating opportunity for everyone, no matter where they live.
"The programme for technology and innovation centres is a key part of our strategy to rebalance the economy. We have so much potential here in Britain; now is the time to harness it and build the stable, prosperous economy we want."
Secretary of State for Business Dr Vince Cable said:
"Britain's economy has been too reliant on the financial sector and we need to diversify as we go for sustainable growth. It is crucial that we support UK industry to turn the discoveries of our world-leading researchers into world-beating products and services.
"The new technology innovation centres will help to equip UK industry with the ability to capitalise on the future global market opportunities by drawing on leading edge research. They form a key part of the Government's work to rebalance the UK economy and create new high-value private sector jobs."
Universities and Science Minister David Willetts said:
"I am pleased that the first of these centres will be focused on high-value manufacturing as a strong manufacturing base is an essential component of a balanced and dynamic economy, where exports and investment drive growth.
"Technology innovation centres will work in partnership with universities and businesses. They will bridge an important gap giving innovative firms access to facilities and technical expertise, enabling them to undertake essential development work which can often be beyond the capability of individual businesses."
The Technology Strategy Board is today publishing a prospectus that will fast track the creation of a centre focused on High Value Manufacturing, and outlines plans to establish a network of six to eight world-leading centres in total. It calls for business, academic and other interest groups to comment on the proposals and help shape how the centres will be developed. Sitting between the worlds of academia and of business, they will enable cutting-edge research to be pushed forward that can be swiftly turned into commercial opportunities.
In his foreword to the prospectus, Iain Gray, the Technology Strategy Board's Chief Executive, says that the centres represent a significant long-term investment in the UK economy, adding:
"As the UK's national innovation agency, we are delighted to be taking on responsibility for establishing and overseeing this new initiative, which offers a high degree of synergy with our other activities that drive innovation for the benefit of UK business."
The prospectus outlines plans to establish a further six to eight world-leading centres in the initial candidate areas of Energy & Resource Efficiency, Transport Systems, Healthcare, ICT and Electronics, Photonics & Electrical Systems. It calls for the business, academic and other interest groups to comment on the proposals and help shape how the centres will be developed. The Technology Strategy Board received funding of £200m in the Comprehensive Spending Review for the Centres.
Notes to Editors:
---
To see the prospectus, please visit:_ _http://www.innovateuk.org/_assets/pdf/corporate-publications/prospectus%20v10final.pdf__

The Prime Minister, David Cameron, announced the establishment of the technology and innovation centres during a speech to the CBI annual conference on 25 October 2010. For the full text, please visit:
http://www.number10.gov.uk/news/speeches-and-transcripts/2010/10/creating-a-new-economic-dynamism-56115
The prospectus_ [add link]_ provides the framework and sets out the process for establishing a national network of elite technology and innovation centres. It describes what technology and innovation centres are, how they will be run and the process for their development, including the consultation process. Details of how to submit views or register an interest are provided on the Technology Strategy Board website - http://www.innovateuk.org/deliveringinnovation/technology-and-innovation-centres.ashx

After consultations a decision will be taken on the establishment of the first centre in March 2011. The Technology Strategy Board is also inviting views by the end of January 2011 on the initial list of candidate areas, and other potential areas, for future centres. These will be established in two phases, with the first phase starting in 2011/2012 and the second during 2012/2013.

The Technology Strategy Board is a business-led government body which works to create economic growth by ensuring that the UK is a global leader in innovation. Sponsored by the Department for Business, Innovation and Skills (BIS), the Technology Strategy Board brings together business, research and the public sector, supporting and accelerating the development of innovative products and services to meet market needs, tackle major societal challenges and help build the future economy. For more information please visit www.innovateuk.org.

BIS' online newsroom contains the latest press notices, speeches, as well as video and images for download. It also features an up to date list of BIS press office contacts. See http://www.bis.gov.uk/newsroom for more information.
Notes to Editors
Contact Information
Name BIS Press Office Job Title
Division COI Phone
Fax
Mobile
Email NDS.BIS@coi.gsi.gov.uk
Name Michael Gibbs Job Title
Division Department for Business, Innovation and Skills Phone 020 7215 1635 Fax
Mobile
Published 6 January 2011