News story
Prompt action smothers smoking waste crate
Radioactive junk is sent to a waste sorting facility to be cut and stored.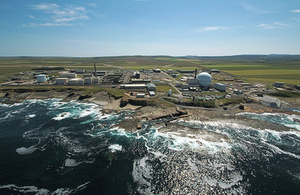 Radioactive junk from the strip-out and dismantling of redundant plant at Dounreay is sent to a waste sorting facility where it is cut up and packed in drums for storage. This work takes place inside a containment cell using remotely-operated tools.
Shortly before 9 pm on Tuesday, January 22, during work to sort through the contents of a crate that had arrived in a cell, smoke was seen rising from the crate.
Operators immediately suffocated the contents of the crate and summoned the site fire service. The in-cell fire detection system activated, automatically suppressing the airflow inside the cell.
After establishing that a small fire was extinguished, fire service personnel remained at the scene as a precaution. The source of the combustion is being investigated.
The ventilation system from the cell is filtered and flows to stacks that are monitored. No evidence of radioactivity from the smoke in the cell was detected. Similarly, no evidence was detected of any escape of radioactivity from the containment cell into the area where operators manipulate the remotely-operated tools. No-one was hurt.
DSRL, the company responsible for decommissioning the site, informed regulators. The Nuclear Decommissioning Authority, which owns Dounreay and funds the work taking place to close it down, was also informed.
DSRL established an investigation to identify the cause and lessons that can be learned.
Decommissioning work is continuing as normal across the site.
Contact: Colin Punler tel: 0776 416 4812. Text updated January 25
Published 24 January 2013