World news story
Promoting studying in the UK at ESAN International Fair 2014
Event promotes UK - ESAN exchange programmes and postgraduate study to students.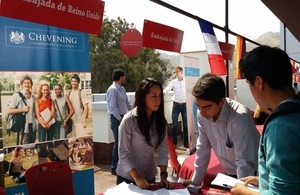 More than a hundred students of ESAN Graduate School of Business participated in the university's International Fair 2014 on Thursday 24 April. The event gathered representatives of international universities to promote academic exchange programmes overseas. ESAN has agreements with three UK institutions: exchange programmes with the University of Strathclyde and the University of Nottingham, and summer school programmes with the London School of Economics.
The British Embassy in Peru promoted these programmes and other opportunities to study in the UK, highlighting the quality of British universities, the fact that 30 of the top 200 universities in the world are in the UK and that students graduating from UK universities tend to achieve a significantly higher salary than those graduating from home universities. Student satisfaction is at 90%, not only due to the quality of teaching but also because of the huge and varied cultural offer and the dynamic environment created by the more than 1million international students that study in the UK every year.
The Embassy also highlighted the opportunities to study in the UK offered by the British Government's Chevening scholarships programme and Peruvian government scholarships such as Programa Nacional de Becas y Crédito Educativo - PRONABEC, Fondo para la Innovación, la Ciencia y la Tecnología - FINCyT, and Reto Excelencia.
ESAN International Fair 2014 is an initiative which began in 2011 and has led to partnerships with institutions throughout Europe, North and South America. The UK is home to some of the world's top business schools and universities, and is an increasingly popular choice for Peruvian students. For more information on studying in the UK go to www.educationuk.org
Photo gallery: Please click here.
Published 9 May 2014