World news story
Promoting transparency and anti-corruption policies in Peruvian private companies
With support of the BE in Lima, the NGO Ciudadanos al Día promotes amongst businesses a voluntary Code of Conduct to fight corruption.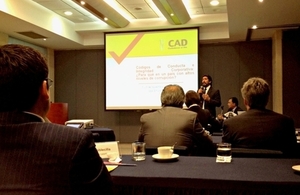 On 5 November, the British Embassy in Lima and Ciudadanos al Día (CAD) gathered with representatives of several Peruvian corporations to discuss a sensitive, yet crucial topic: promoting transparency and anti-corruption policies in Peruvian private companies. Ciudadanos al Día is a non-profit organisation with a long term commitment to work on transparency and anti-corruption projects and will incorporate the outputs of this project into their work.
As part of one of the activities of a project financed by the British Embassy, CAD organised the two-day conference "Transparency & Anti-Corruption: Developing a Voluntary Code of Conduct" in which spokespersons from different organisations shared their experiences on the implementation of codes of ethics.
After CAD's Executive Director and founder Caroline Gibu welcomed the audience, she proceeded to discuss the aim of the project: to engage business in Peru to develop, adopt and promote a voluntary code of conduct, through highlighting the importance and benefits of transparency and anti-corruption measures directly to companies. Representatives from mayor companies such as Interbank , Scotiabank, Telefónica phone and media corporation, and oil giant Repsol YPS were present.
In order to clarify the concept of the Code of Conduct, the UK Anti-Bribery Act served in this case as a model. This Act, introduced in 2011 by the UK Parliament, has a near-universal jurisdiction and is considered as the toughest anti-corruption legislation in the world. Through this example, the conference sought to encourage private companies to be at the forefront of transparency and anti-corruption practice in Peru.
Published 19 December 2013