Promoting high standards in the UK PMSC industry
The Foreign and Commonwealth Office has today taken further steps to implement robust national standards for the regulation of the UK based Private Military and Security Company (PMSC) industry.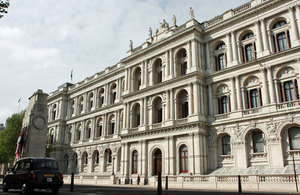 In a written ministerial statement, Minister for Conflict Issues, Henry Bellingham, announced that the trade association Aerospace, Defence and Security (ADS) will now work with the FCO to develop, implement and enforce robust standards concerning the activity of UK-based PMSCs.
Once national standards, derived from the International Code of Conduct for Private Security Providers, are agreed, ADS will work with the Government to ensure that the UK PMSC industry is at the forefront of a responsible global industry and that their activity is regulated and accountable. The Government will use its influence as a key buyer of PMSC services to promote compliance with complementary national and international standards.
Welcoming the appointment of ADS, FCO Minister Henry Bellingham MP said:
"This is an important step forward for the regulation of this developing industry. PMSCs play an important role in hostile environments and enable Governments, non-governmental organisations, and the media to carry out their vital work in countries such as Afghanistan and Somalia.
Ensuring that PMSCs comply with the highest standards in these activities is paramount and through appointing ADS to be our partner I believe we are taking this important goal forward."
UK national standards will be derived from the International Code of Conduct for Private Security Providers, signed in Geneva in November 2010. Over a hundred PMSCs, over 30% of them UK-based, have agreed to the International Code and more are in the process of joining.
The Government, along with the Swiss, US and Australian governments is now working with NGO and industry partners to establish a mechanism to monitor compliance with the code. Each stage of this work is open to public consultation and can be accessed through the International Code of Conduct's website: www.icoc-psp.org.
Published 21 June 2011