Promoting high standards in the private military and security company industry
Foreign Office Minister Henry Bellingham has updated parliament on work to promote high standards in the Private Military and Security Company industry.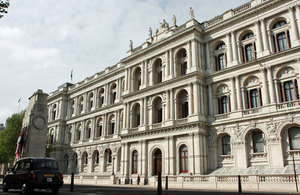 In a written statement to Parliament the Foreign Office Minister said:
"On 16 September 2010 the Foreign Secretary confirmed that the Government would be taking forward work to promote high standards in the Private Military and Security Company (PMSC) industry on three tracks: introducing robust regulation in the UK through a trade association based on a voluntary code of conduct agreed with and monitored by the Government; using the Government's leverage as a key buyer of PMSC services to promote compliance with the code; and, seeking an international agreement on standards consistent with the UK code covering all aspects of PMSC organisation and operation worldwide.
Since then, we have made significant progress on the international strand. We have been leading work with the United States and Swiss governments to develop international standards for the industry. On 9 November 2010 an International Code of Conduct for PMSCs was signed in Geneva by 58 major international PMSCs. This code is based on principles of human rights and international humanitarian law, and sets out broad guidelines for the organisation and operations of the industry worldwide. Since then, an additional 13 companies have signed up to the code. We are now working with the Swiss and US Governments, the PMSC industry and NGO community to establish an international mechanism to monitor compliance with the code. The Government is also now working to update its guidance for shipping companies who use PMSC services at sea, to protect their vessels against piracy.
We have also made progress to identify a representative from industry to work with us to establish a code of conduct setting out national standards derived from the international code, and to monitor and audit compliance of UK based PMSCs. We received proposals from two organisations, which we assessed in detail, and I can confirm that we will be entering further discussions with Aerospace Defence and Security (ADS) to determine next steps for ensuring the implementation of a robust code and monitoring regime in the UK.
Published 10 March 2011