Press release
Project starts to reconnect Woodgate Valley Country Park
The Environment Agency starts work to improve the ecology of the Bourn Brook which flows through Woodgate Valley Country Park, Birmingham.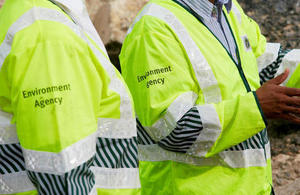 Working with Birmingham City Council, the Environment Agency has secured funding to modify a number of concrete weir structures. This should help create a better place where wildlife can thrive and local people can reconnect with their environment.
The work starts this week and includes creating a new channel around one of the weir structures and removing the large stones from another 4 concrete weirs which are currently acting as barriers to fish and invertebrates moving up and downstream. The weirs also disrupt sediment movement. Changing the weirs should help increase the range of aquatic life that are found in the Bourn Brook and make the brook more resilient if a pollution event occurs. The Environment Agency hopes these improvements will provide a better quality environment for local people to visit and enjoy.
Throughout the main part of Woodgate Valley Country Park there are 10 weirs. Three are brick step structures with a ford and footbridge close by and the rest are concrete structures. The concrete weirs have pillars used as stepping stones by park users although this is not thought to be their original purpose. The Environment Agency hopes the work will encourage the public to cross the brook using the footbridges instead, which is much safer.
The work will take approximately 10 days to complete. There may be minor disruption to park users while the work is being carried out. The Environment Agency will be carrying out ongoing monitoring with the help of the Freshwater Invertebrate Network community volunteers to see how the ecology of the Bourn Brook is responding.
Alex McDonald, Environment Agency Project Manager said:
The improvements are the first step in restoring the watercourse. We should start to see real benefits for fish, invertebrates and the local community. This will help the Bourn Book reach its full potential.
Published 20 January 2015