News story
Progressive plans for higher education
Universities play a key role in promoting social mobility as well as economic growth. The new reforms will offer a more generous package of …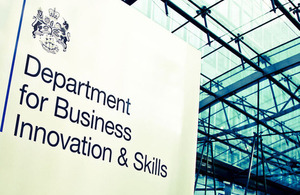 Universities play a key role in promoting social mobility as well as economic growth. The new reforms will offer a more generous package of financial support for students from low income backgrounds to go to university.
Graduates who have completed their studies and are among the country's higher earners will make a greater contribution towards the cost of their education. As their earnings increase, so will their contributions.
Under the reforms the bulk of funding will follow the choices of students, rather than flowing as a block grant from the Government as at present - encouraging universities to put more focus on teaching quality and employment opportunities for their graduates.
Under the new plans:
There will be a graduate contribution threshold of £6,000 a year. In exceptional cases, universities will be able to charge higher contributions, up to a limit of £9,000, subject to meeting much tougher conditions on widening participation and fair access. It will be up to the university or college to decide what it charges, including whether it charges at different levels for different courses.

Any university or college will be able to charge below £6,000. Universities and colleges will have to meet conditions set by the Office for Fair Access demonstrating how they will spend some of the additional income making progress in widening participation and fair access. OFFA will be able to apply sanctions in cases where universities do not deliver on the commitments in their access agreements, up to and including withdrawing the right of the university to charge more than £6,000.

A new £150m National Scholarships Programme will be targeted at bright potential students from poor backgrounds. It will guarantee students benefits such as a free first year or foundation year.

The Government will lend any eligible student the money to pay the university or college for tuition costs. For the first time, part-time students will be entitled to a loan and no longer forced to pay up-front costs, so long as they are studying a third as much as a full time student.

Students from families with incomes of up to £25,000 will be entitled to a more generous student maintenance grant of up to £3,250 and those from families with incomes up to £42,000 will be entitled to a partial grant.

Maintenance loans will be available to all irrespective of income.

Further details of loan rates for students living at home, those living away from home and studying in London, and loans for longer courses will be provided in due course.

Graduates will not make a contribution towards tuition costs until they are earning at least £21,000, up from the current £15,000. The repayment will be on 9% of income above £21,000, and all outstanding repayments will be written off after 30 years.

In order to make the system financially sustainable, a real rate of interest will be charged on loan repayments, but with a progressive taper. For graduates earning below £21,000, there will be no real rate of interest applied to their loan. For graduates earning between £21,000 and around £41,000, a real rate of interest will start to be charged, reaching a maximum of RPI plus 3%. Above £41,000, graduates will repay at the full rate of RPI plus 3%. Under our new more progressive repayment system, 25%, and according to the IFS maybe as many as 30%, of graduates with the lowest lifetime earnings, will pay less than under the current system.

The Government is committed to the progressive nature of the repayment system. It is therefore important that those on the highest incomes post graduation are not able unfairly to buy themselves out of this progressive system by paying off their loans early. The Government will consult on potential early repayment mechanisms - similar to those paid by people who pre-pay their mortgages. These mechanisms would need to ensure that graduates on modest incomes who strive to pay off their loans early through regular payments are not penalised.
Business Secretary Vince Cable said
"The Coalition Government has developed a package that is fairer than the present system of student finance and affordable for the nation.
"Access to higher education will be on the basis of ability, not ability to pay. No-one will have to pay up-front tuition fees. We are extending loans for the cost of tuition to the majority of part-time students. No one will contribute until they can afford to do so - when they are in well paid jobs.
"The graduate contribution system that we have designed will protect the lowest earning graduates and ensure that their contributions are linked to their ability to pay; indeed,** **under our new more progressive repayment system, 25%, maybe as many as 30% according to the IFS, of graduates with the lowest lifetime earnings will pay back less than they do now.
"We want to have a thriving university sector with excellent teaching accessible to everyone who has the ability to go. We are clear that there must be a link between the financial advantages conferred by a degree and the contribution made by the graduate. A high earning banker or lawyer should pay more than a nurse or youth worker."
David Willetts, Minister for Universities and Science said:
"We have taken account of an extensive range of views including endorsing the key recommendations of Lord Browne's independent review of HE funding and student finance.
"Good quality higher education is important in itself, but also to the economy in the long term delivering highly skilled and well educated employees to businesses. The current system of funding for universities is unsustainable and in need of reform.
"This progressive package will put universities' finance on a sustainable footing with extra freedoms and less bureaucracy. But in return there will be greater choice for students with a stronger focus on high quality teaching."
The Government will publish a Higher Education White Paper in the winter with detailed proposals on the wider, long-term issues that arise from Lord Browne's review.
Notes to editors:
The Independent Review of Higher Education Funding and Student Finance was launched on the 9th November 2009. It fulfils a commitment made during the Commons stages of the Higher Education Act 2004 to review the operation of variable tuition fees after these had been in force for three years. The Review was established on a cross-party basis, following consultation on appointments and its terms of reference.

The review was chaired Lord Browne of Madingley. The other members of the Review Group were Sir Michael Barber, Diana Coyle, Professor David Eastwood, Professor Julia King, Peter Sands and Rajay Naik. Members' biographies are available at:
http://hereview.independent.gov.uk/hereview/members-biographies/.

Terms of reference for the Review are available at:
http://hereview.independent.gov.uk/hereview/written-ministerial-statement/.
The Review called for two rounds of evidence (in December/January and March/May) and held public hearings in London, Manchester, Bristol and Leicester. An Advisory Forum was also established to enable groups that represent all those with an interest in higher education the opportunity for formal, structured engagement with the Review's work.
Published evidence is available to view at:
[http://hereview.independent.gov.uk/hereview/2010/03/submissions-to-the-first-call-for-evidence/](http://hereview.independent.gov.uk/hereview/2010/03/submissions-to-the-first-call-for-evidence/)
Secretary of State for Business Innovation and Skills Vince Cable made a statement to Parliament setting out the Government's initial response to the Review on 12 October 2010. This statement is available at http://nds.coi.gov.uk/content/Detail.aspx?ReleaseID=415930&NewsAreaID=2

Details of the current student finance arrangements can be found at http://www.direct.gov.uk/en/EducationAndLearning/UniversityAndHigherEducation/StudentFinance/Applyingforthefirsttime/index.htm

BIS' online newsroom contains the latest press notices, speeches, as well as video and images for download. It also features an up to date list of BIS press office contacts. See http://www.bis.gov.uk/newsroom for more information.
Notes to Editors
Contact Information
Name BIS Press Office Job Title
Division COI Phone
Fax
Mobile
Email NDS.BIS@coi.gsi.gov.uk
Published 3 November 2010