World news story
Professor Robin Grimes visit to Madrid
On his first European trip, Professor Robin Grimes, new FCO's Chief Scientific Adviser, visited Madrid on 8 May 2013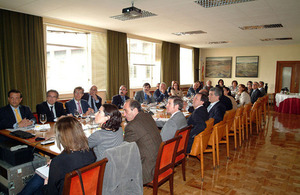 The visit was mainly focussed on dementia and nuclear fission research. A roundtable hosted by the Spanish Nuclear Fission Technology Platform brought together academics and companies to discuss UK and Spanish activity in the nuclear sector. European research infrastructures projects, joint education and training opportunities and use of materials coming from dismantled reactors for research, were all identified as areas for closer bilateral collaboration.
On Dementia, The Queen Sophia Foundation Alzheimer's Project hosted a further roundtable to look at the challenge of dementia. The PM's Dementia Challenge initiative sparked a lot of Spanish interest on both the research and the public policy side. Robin Grimes also met The Spanish SG for Science, Technology and Innovation and discussed ways to encourage UK and Spanish stakeholders to jointly apply for European programmes, and increase their collaboration under the H2020 framework.
As part of his visit, Professor Robin Grimes, gave a personal profile interview to EL PAIS, the leading Spanish newspaper with 1.8 million readership. The article highlighted the importance that the UK has given to addressing dementia from all angles and the acceptance of nuclear energy among the society in the UK, fruit of an excellent communication in the matter.
Published 9 May 2013