Professor Philip Nelson appointed as chief executive and deputy chair of the Engineering and Physical Sciences Research Council
David Willetts announces the appointment of Professor Philip Nelson as chief executive and deputy chair of the EPSRC.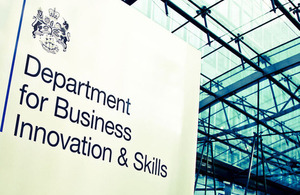 Universities and Science Minister David Willetts today (30 January 2014) announced the appointment of Professor Philip Nelson as chief executive and deputy chair of the Engineering and Physical Sciences Research Council (EPSRC).
David Willetts said:
I am delighted that Professor Nelson is joining EPSRC as the new chief executive. His impressive track record in academia combined with his industrial background will serve him well in leading EPSRC with its vital role of supporting world-class science and engineering.
Professor Nelson said:
I feel greatly honoured to have been chosen for such an important national role. I am looking forward to working with colleagues across the research disciplines to ensure the continued health of the UK's world-class science base upon which so much of our future prosperity depends.
EPSRC Chair Dr Paul Golby said:
I look forward to working closely with Phil Nelson to meet the challenges which lie ahead for engineering and the physical sciences. He brings a wealth of experience to the role, both academic leadership and organisational management.
The appointment is for 4 years. Professor Nelson will take up his post on 1 April 2014 as the permanent successor to Professor Dave Delpy.
Notes to editors
1.Professor Nelson's appointment was made following an open competition.
2.Professor Nelson is Professor of Acoustics at the University of Southampton where he has served as Pro Vice-Chancellor for Research and Enterprise from 2005-2013, as Director of the University's Institute of Sound and Vibration Research (ISVR) from 2001 to 2005, and as the founder Director of the Rolls-Royce University Technology Centre in Gas Turbine Noise from 1999 to 2001. He also served as President of the International Commission for Acoustics from 2004 to 2007.
A graduate of Southampton, Professor Nelson remains an active researcher, having worked mainly in the fields of acoustics, vibrations, signal processing, control systems and fluid dynamics. He led the University's submission to the 2008 Research Assessment Exercise and 2014 Research Excellence Framework. He is currently chairing the General Engineering sub-panel for REF2014.
Professor Nelson is a Chartered Engineer, a Fellow of the Institution of Mechanical Engineers and a Fellow of the Royal Academy of Engineering. The director of a number of spin-out companies, Professor Nelson has served on the CBI South East Regional Council as well as the boards of the University of Southampton Science Park and of the 'SET-squared' partnership of Southampton, Bristol, Bath and Surrey Universities. In 2013 he co-founded the Science and Engineering South Consortium of research-focused universities including Oxford, Cambridge, Southampton, Imperial College London and University College London.
3.The Engineering and Physical Sciences Research Council (EPSRC) is the UK's main agency for funding research in engineering and the physical sciences. EPSRC invests around £800 million a year in research and postgraduate training, to help the nation handle the next generation of technological change.
4.The government's economic policy objective is to achieve 'strong, sustainable and balanced growth that is more evenly shared across the country and between industries'. It set 4 ambitions in the 'Plan for Growth', published at Budget 2011:
to create the most competitive tax system in the G20
to make the UK the best place in Europe to start, finance and grow a business
to encourage investment and exports as a route to a more balanced economy
to create a more educated workforce that is the most flexible in Europe
Work is underway across government to achieve these ambitions, including progress on more than 250 measures as part of the Growth Review. Developing an Industrial Strategy gives new impetus to this work by providing businesses, investors and the public with more clarity about the long-term direction in which the government wants the economy to travel.
Published 30 January 2014