Press release
Professor Bob Watson wins international environmental award
Professor Bob Watson, Defra's Chief Scientific Advisor, has won the prestigious international Blue Planet Prize, it was announced today.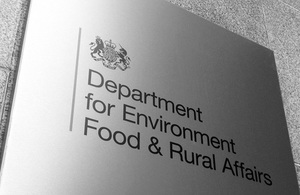 The prize, sponsored by the Asahi Glass Foundation in Japan, is awarded each year to two individuals or organizations for outstanding achievements in scientific research and its application, which help to solve global environmental problems.
Professor Watson has been awarded the Blue Planet Prize for his work on providing scientific evidence on ozone depletion and his time as Chair of the Intergovernmental Panel on Climate Change from 1997 to 2002. Professor Watson's work on ozone depletion led to the Montreal protocol on reducing ozone harmful emissions,
Dr James Hansen, Director at the Goddard Institute for Space Studies at NASA, has also been awarded the Blue Planet Prize.
Professor Watson said:
"I would like to thank the Asahi Glass Foundation and its selection committee for the incredible honour of awarding me the 2010 Blue Planet Prize, which has been bestowed in previous years on a group of truly outstanding scientists and policy-makers. It is a particular honour to receive it in the same year as James Hansen who has played a critical role in the climate change debate.
"I have been fortunate to have worked with many of the world's best scientists on issues such as stratospheric ozone depletion, climate change, and more recently biodiversity loss and sustainable agriculture. These issues are not only environmental issues, but of importance to poverty alleviation, economic development and human security.
"The international scientific programs and assessments in which I have been associated have played a critical role in influencing national and international policies. The international assessments are credible only because of the commitment of so many experts throughout the world in preparing and peer-reviewing them. Chairing and directing these assessments, and then translating the information for decision-makers in government and the private sector, has been an incredible, enjoyable and highly rewarding experience."
Caroline Spelman, Secretary of State for Environment, Food and Rural Affairs, said:
"This prestigious award is well-deserved recognition for the outstanding contribution Bob has made in driving forward quality scientific research on the key environmental challenges facing the world. His work on ozone depletion and climate change have helped to bring about major changes in the way we see our impact on the natural world.
"As Defra's Chief Scientific Advisor Bob's expertise is a real asset and he continues to play an invaluable role by ensuring our environmental policies are based on sound scientific evidence. I offer Bob my sincerest congratulations for receiving this award."
Announcing Professor Watson as an award winner, the Blue Planet Prize Board of Directors and councillors, said:
"Led by Dr. Watson, a team of scientists derived scientific evidence of the depletion of the Ozone Layer and endorsed the Montreal Protocol which incorporated the reduction of ozone depleting substances. As Chair of IPCC, he played a significant role in successfully completing the detailed review of the Third Assessment Report by national governments from around the world, coordinating and bridging science and policy for protecting the world environment. The amount of contribution he has made to policy-making by national governments and international frameworks such as UNFCCC, a necessity and the foundation for the conservation of the global environment, is tremendous."
The Blue Planet Prize will be presented to Professor Watson on October 26, 2010 in Tokyo.
Notes 
The 2010 Blue Planet Prize winners will be announced at 13:30 on Thursday 17 June in Japan. (05:30 GMT)
Both recipients will be awarded a certificate of merit, a commemorative trophy and a supplementary award of 50 million yen.
Published 17 June 2010