News story
Committee pays respects to former members
The Committee is saddened to hear of the deaths of Professor Anthony King and Lord Goodhart who served on the Committee on Standards in Public Life from 1994 to 1998 and 1997 to 2003, respectively.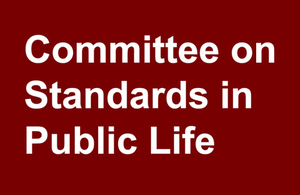 Lord Bew, Chair of the Committee, said:
"Anthony King made a great contribution to standards in public life as one of the first members of this Committee under Lord Nolan's chairmanship. He was a man of great knowledge, with impeccable judgement and wisdom. "
"Lord Goodhart was a great man with a lifelong interest in ethics, human rights and education. He played a key part in bringing about greater transparency around the funding of political parties under Lord Neil's chairmanship. "
The Committee would like to pass on its condolences to both their families.
Published 13 January 2017