World news story
Productive visit by the Lord Mayor of London
The Lord Mayor is the head of the City of London Corporation, the world leader in international finance and business services.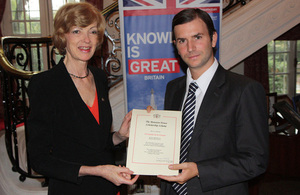 The Right Honourable the Lord Mayor of the City of London, Fiona Woolf, finished her successful visit to Uruguay 4-6 May, with the commitment to promote trade and investment in Uruguay.
A concrete outcome of her visit is to hold an "Invest in Uruguay" day at the City to boost the visibility of Uruguay in the United Kingdom. "I take back solid arguments to promote direct investment by British businessmen in Uruguay. It is an open economy, and Uruguay can act as a springboard to the region," she said.
The Lord Mayor identified specific opportunities in infrastructure, PPPs, energy and education.
During her visit, the Lord Mayor met government authorities including Vice President Danilo Astori, Minister of Economy and Finance Mario Bergara, Minister of Foreign Affairs, Luis Almagro, President of the Central Bank, Alvaro Graña, and the Mayor of Montevideo, Ana Olivera, who honoured the Lord Mayor declaring her an "Illustrious Citizen" of Montevideo.
The Lord Mayor also awarded the Mansion House Scholarship for the first time in Uruguay to Fernando de la Fuente, a young professional who will pursue an MBA at London Business School.
Published 8 May 2014