World news story
Prize presentation for the winners of the 2016 BUBA Awards
A ceremony to fete students and schools who participated in the 2015/2016 BUBA Awards took place at the Empire Hotel on Wednesday 24 August.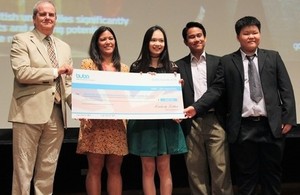 The British Universities Brunei Association presented awards to debating teams from Bruneian schools at a reception held at the Indera Samudra Grand Hall at the Empire Hotel & Country Club on 24 August. The winning team and two runners up received their prizes from BUBA Chair Kim Tritton and British High Commissioner HE David Campbell.
The first prize winners were Al'Amin bin Husaini, Fiona Ngu Ying Ying and Kelvin Ku Teck-Foong from Maktab Duli Pengiran Muda Al-Muhtadee Billah. They won a $2000 cash prize and the BUBA trophy. The runners up were Jonah Matin bin Jasni, Munjiyah Adawiyah bte Haji Arine and Nur Farah Nadiah bte Ghazali from Pusat Tingkatan Enam Sengkurong who won a $1000 cash prize. Third place went to Nurafiqah binti Zamri, Nurizyan Hazirah binti Mohd Taib and Nur 'Atikah Haji Saiful Ashura from Pusat Tingkatan Enam Tutong. All winners were presented with plaques and certificates.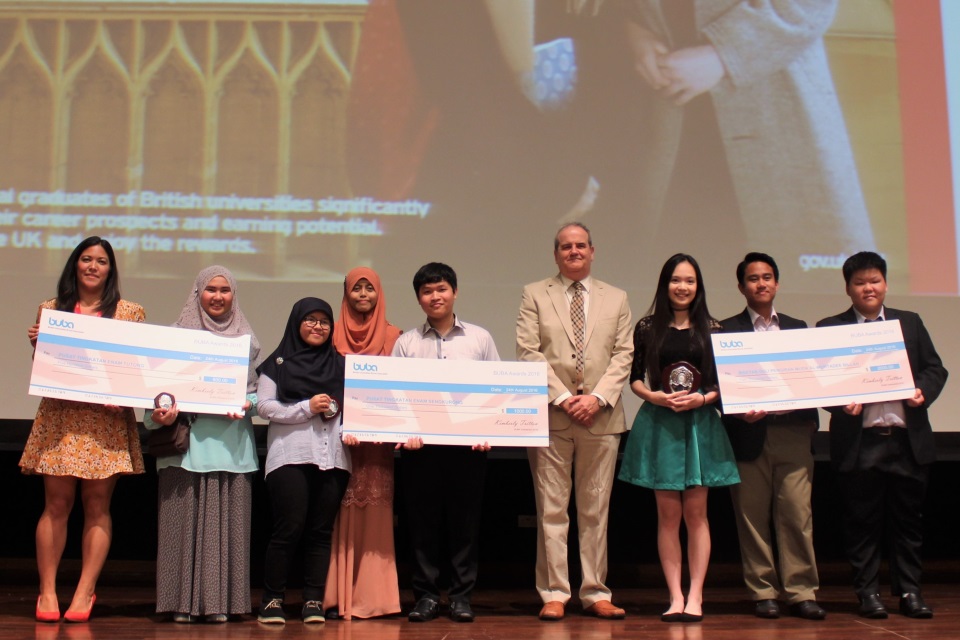 Seven schools had taken part in the competition: Maktab Duli Pengiran Muda Al-Muhtadee Billah, Maktab Sains Paduka Seri Begawan Sultan, Pusat Tingkatkan Enam Meragang, Pusat Tingkatan Enam Sengkurong, Pusat Tingkatan Enam Tutong, Sekolah Menengah Sayyidina Ali and Jerudong International School.
BUBA Chair, Kim Tritton said:
The British Universities Brunei Association was pleased to hold the 4th Annual BUBA Awards in 2016.

The awards are aimed at celebrating the ongoing relationship between the UK and Brunei, particularly in terms of education, as well as looking forward to ever more successful collaboration for many years to come.
British High Commissioner HE David Campbell said:
All the debating teams are to be congratulated. They demonstrated confidence in public speaking which will help them at university and in their future careers.
The annual competition aims to promote interest and develop understanding of British Universities among students in Brunei. The format varies from year to year. Students are encouraged to participate in research or project work relevant to university life and potentially their future careers. ​
​In previous years the quality of the submissions impressed and wowed the judges and this year was no exception. This year's competition was centered around education and in BUBA's most ambitious competition to date students from seven schools participated in inter school debates over four separate rounds, one at school level and three at National level. Each team had to showcase excellent communication, debate and research skills.
BUBA congratulated the winning team from Maktab Duli Pengiran Muda Al-Muhtadee Billah and all other teams for impressive dedication to their academic and personal development.​
BUBA thanked all staff and students who took part, with special thanks to Jerudong International School for hosting the national rounds. Participating schools helped students to prepare, oversaw debates, hosted national rounds and helped students perform with professionalism, good sportsmanship and a collaborative spirit. The judges for the final debate were His Excellency Mr David Campbell, British High Commissioner, Dr Greg Keaney, Country Manager of CfBT Education Services and Associate Professor Dr Anne Cunningham, Deputy Dean Research, Graduate Studies and Global Affairs, Universiti Brunei Darussalam. The administration arrangements were made by the British Council in Brunei.
Published 25 August 2016