Private investment to help tackle climate change
Britain will spearhead a new drive to bring major private investment to tackle the global threat of climate change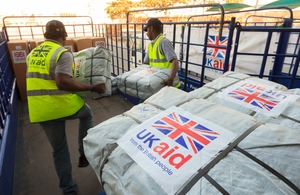 Britain will spearhead a new drive to bring major private investment to help tackle the global threat of climate change and help boost economic growth, International Development Secretary Andrew Mitchell announced today at the World Economic Forum in Davos.
 
Through two new commercial funds, the Climate Public Private Partnership is expected to bring in at least £30 of private capital for every pound provided by the British taxpayer. This will help support projects to deliver clean, renewable and efficient energy, new technology and protect natural resources in emerging and developing countries.
 
By investing in new solar, wind and hydroelectric power plants and technology the initiative is expected to generate more than 7,000 megawatts of clean, reliable energy - equivalent to 66 per cent of current UK renewable energy capacity - and create 40,000 jobs.
 
In total, the initiative should avoid at least 265 million tonnes of CO2 over the lifetime of the projects. This is the same as 66 million European cars emit in a typical year.
 
A chronic lack of clean, reliable infrastructure is holding back economic growth in developing countries. New investment is vital to help them grow their economies and stimulate economic growth, ensuring the world around us is prosperous and helping the poorest to pull themselves out of poverty.
 
The funds will be run on a strict commercial basis by professional fund managers demonstrating that investment in climate projects in developing countries offers real opportunities for investors.
 
International Development Secretary Andrew Mitchell said:
 
"For too long the power of the private sector has been forgotten in the fight against global challenges. Climate change affects us all - but it will hit the poorest the hardest. Taxpayers' cash alone cannot solve this. We need to engage and harness the power of the private investors.
 
"Our support will reduce the risk of investing, helping the private sector to tackle this global problem by investing in some of the fastest growing economies in the world.
 
"Developing countries do not need to sacrifice economic growth in the interests of going green. We will support investments that deliver green growth for those who need it.
 
"This project is firmly in Britain's economic interest. Boosting growth across the world will open up markets to British goods and services in the fastest growing economies. Our investment will have some of the characteristics of a Sovereign Wealth Fund by providing returnable capital which will earn a return for the British taxpayer as well as drive forward growth in the developing world."
 
Energy and Climate Change Secretary Chris Huhne said:
 
"Private sector investment is crucial in helping developing countries and the most vulnerable cope with the effects of climate change so we need to think of new and ambitious ways to generate more. The Climate Public Partnership Platform has the potential to transform private sector investment, accelerating the private equity market. This will help boost more cash flowing from large investors to help those who really need it."
Lars Thunell, IFC Executive Vice President and CEO said:
"Addressing climate change is a strategic priority for IFC, and private equity is well suited to jump start climate-friendly investment in emerging markets. We hope that the fund will help make the business case for these kinds of investments and encourage additional private sector investment into innovative climate projects."
The British Government will provide an initial equity investment as well as funding for a technical support facility which will help reduce the risk of investing in the developing world.
 
The project will also create a track record of reliable climate-friendly sub-funds covering energy efficiency, clean technology and natural resources This will help to build an evidence base to encourage follow-on investments in the climate market.
 
The scheme has been developed by the British Government in collaboration with the International Finance Corporation and the Asian Development Bank.
Published 27 January 2012