Prisons competition outcome
The outcome of the competition for the management of five prisons has been announcement today by Kenneth Clarke.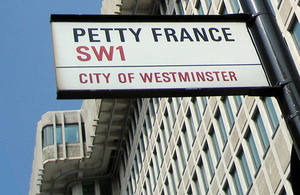 In 2009 it was announced that Her Majesty's Prisons (HMP) Birmingham, Buckley Hall, Doncaster, Wellingborough and a new prison, Featherstone 2, would be market-tested. During the competition process it became apparent that HMP Wellingborough could not produce significant improvements without considerable financial investment and therefore a decision was made to remove it from the competition process.
The outcome of the four remaining prisons is:
HMP Birmingham will be run by G4S
HMP Buckley Hall will be run by HM Prison Service
HMP Doncaster will be run by Serco
Featherstone 2 will be run by G4S
The new contracts for HMPs Birmingham, Buckley Hall and HMP Doncaster will be effective from October 2011 and from April 2012 for Featherstone 2.
 
At HMP Doncaster, Serco will operate the first of the new payment by results pilots announced in last December's Green Paper.  This will see them working with their long term partners from the voluntary sector Turning Point, and Catch 22. They will in turn work with providers from the private, social enterprise, charity and voluntary sectors to enable them to meet the specific needs of each individual offender. The new contract price for HMP Doncaster will deliver significant annual savings as well as the much wider social benefit of a potential reduction in crime.
 
Kenneth Clarke, Lord Chancellor and Secretary of State for Justice said:
 
'I would like to thank all the bidders for contributing to what has been a challenging contest and which will secure significant improvements and savings at all the establishments involved.
 
'This government is committed to delivering reform in our public services. This process shows that competition can deliver innovation, efficiency and better value for money for the taxpayer - but also that it can do so without compromising standards.
 
'Over the spending review period, the new contracts will deliver savings of over £21 million for the three existing prisons. In the same period, the new prison Featherstone 2 will be delivered at £31 million less than the costs originally approved by the previous government. Cumulative savings over the lifetime of the contracts for the three existing prisons are very impressive at £216 million.
 
'Public protection is not just about how we manage prisons in order to punish people. It is also about how we achieve genuine and long-lasting reductions in crime, by cutting reoffending. I am particularly pleased therefore to be able to announce that for the first time, the contract award for HMP Doncaster will include an element of Payment by Results.
 
'Payment by Results is central to our rehabilitation reform plans because it means that we can concentrate resources on what works to reduce reoffending. The contract for HMP Doncaster is an important first step towards fulfilling this commitment.
 
'Today's announcement shows that competition has a significant role to play in delivering value for money, better outcomes and broader reform. I encourage providers from any sector to rise to the challenge: the public should expect safety and security and better results to go hand in hand with efficiency and innovation.'
Notes to editors
HMPs Birmingham, Buckley Hall and Wellingborough are currently managed by the public sector. HMP Doncaster is currently being managed by Serco and Featherstone 2 is a new prison which is due to open in 2012.
The prisons were selected for a variety of reasons. Birmingham and Wellingborough were chosen after being identified by the National Offender Management Service as performing poorly. Buckley Hall and Doncaster are establishments that have been previously competed and their contract is due for renewal. Featherstone 2 is a new prison.
HMP Wellingborough has been taken out of the competition process and will continue to be managed by the public sector. It will need to deliver the 10 percent efficiency savings required of every prison over the next four years.
The payment by results contract at HMP Doncaster is the first of our series of new payment by results projects announced in last December's Green Paper. The pilot at HMP Doncaster will include the vast majority of offenders within the prison; the intention is to provide rehabilitative services across as wide a range of offenders as possible.
The new contract for HMP Doncaster will include a trial of the Payment by Results (PBR) initiative. The PBR element means that 10 per cent of the contract price will only be payable if the operator reduces the one-year reconviction rates of offenders discharged from the prison by five percentage points. Further payments are available up to a total maximum of 10 percentage points and will still come in at less than £1m than we currently pay.
Published 31 March 2011