Prisoners pay back victims
Money deducted from prisoners' pay packets to fund victim support services as part of a new Government scheme has raised more than £383,000.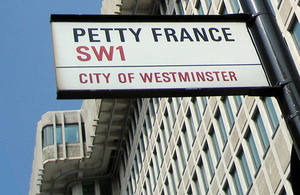 Money deducted from prisoners' pay packets to fund victim support services as part of a new Government scheme has raised more than £383,000 in its first six months, Justice Minister Crispin Blunt announced today.
Under the Prisoners' Earnings Act up to 40 per cent of the wages earned by low-risk prisoners who work outside of prison to prepare for their release go to national charity Victim Support.
This money is used to provide support such as professional counselling and enhancing home security - helping victims to recover from the trauma of crime.
Justice Minister, Crispin Blunt, said:
'For too long offenders have not done enough to shoulder the financial burden of their crimes, leaving the taxpayer to foot the bill for the damage they have caused.
'The Prisoners' Earnings Act is the start of Government getting the balance right - forcing prisoners to take responsibility for their crimes and helping victims to recover through the funding of these vital support services.'
Javed Khan, chief executive of Victim Support, said:
'Victim Support is using cash from the Prisoners' Earnings Act to provide practical help for the victims of crime in most need.
'Vulnerable and traumatised victims are benefitting from a range of support including emergency accommodation when they can't go back to a burgled home, new locks for security and peace of mind, and counselling when it's required.
'It is only right that prisoners who have caused such damage take responsibility by supporting the welfare of victims. The Act is an excellent way of achieving this.'
The money has helped many people including an 80-year-old man who was robbed after collecting his pension from the Post Office. He was worried about his safety after his keys and wallet were taken and the fund paid for new locks for his home, a personal alarm and food vouchers.
The money raised through the PEA has also helped a woman who was struggling financially to buy a new bed for her daughter who was too distraught to sleep in her old bed following a sexual assault.
On average, prisoners working inside prisons earn less than £10 per week, working as prison cleaners, cooks or in prison workshops. However, up to 500 offenders, who have passed a rigorous risk assessment, work outside the prison to help prepare for their release. It is hoped deductions under the PEA will generate up to £1million in its first year.
Notes to Editors
Prisoners earning more than £20 per week see up to 40% of their earnings (after tax, National Insurance and any court-ordered or child support payments) go to services which support victims of crime.
Prisoners working outside of prison, unlike those working inside, are afforded the protection of the National Minimum Wage.
The Prisoners' Earnings Act was implemented on 26 September 2011. Under the Act, prison governors make deductions from prisoner wages, and the scheme is administered by the National Offender Management Service (which takes the PEA deductions and pays prisoners the remainder). Employers are not directly involved.
The statistical bulletin on the first six months of PEA (October 2011-March 2012) can be found at www.justice.gov.uk/statistics/ad-hoc
For more information, call the Ministry of Justice press office on 0203 334 3536.
Published 30 May 2012