Press release
Prisoners made to pay for damage
Prisoners who cause damage to prisons and prison property will have to pay for the cost of repairs under new plans announced by Justice Secretary Chris Grayling.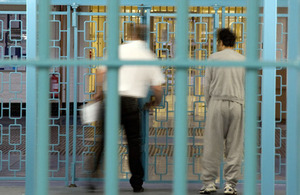 For the first time offenders will be made to take financial responsibility for their actions as they shoulder the cost of the repairs.
Justice Secretary Chris Grayling said:
'It is clearly not right that prisoners can wilfully cause damage in prisons and not be held financially accountable.
'For too long the hard-working tax payer has had to foot the bill for offenders' malicious acts, and this cannot continue.
'From now on, if you wilfully break it you will pay for it.'
The new instruction, which covers all prisons and Young Offender Institutions in England and Wales, will be introduced on 1 November.
It will see adjudicators make prisoners pay compensation for damage caused, and gives governors of public sector prisons and directors of privately managed prisons the power to take the money directly from their prison accounts.
Last year there were 6,881 proven cases of wilful damage in prisons, and under the new policy all prisoners would be expected to pay towards the full cost of their actions.
Currently a prisoner makes no contribution to the repairs - such as the £1,000 cost of replacing the complete toilet and sink unit and plumbing, the £832 cost for a new cell door or up to £419 for a new window – or the cost of labour.
In addition, adjudicators can decide on an appropriate punishment for an offender's behaviour. This could include loss of privileges or cell confinement.
Notes to Editors
The new policy (PSI 31/2013) will begin on 1 November 2013. It will be laid before Parliament as a Statutory Instrument (SI) on Monday 30 September.
If a prisoner is found guilty of an offence, committed on or after 1 November 2013, involving the damage or destruction of prisons or prison property, the adjudicator must impose an award to recover money from the prisoner for the damage caused.
The compensation will be for the full value of the damage caused (up to a maximum of £2,000), unless there are sufficiently compelling circumstances to make a lesser award.
There will be a list of replacement costs to ensure they are consistently applied.
Prisoners will be left with a minimum amount in their accounts to purchase necessary items and maintain contact with their family.
Any money above the minimum amount will be recovered as soon as it becomes available.
The debts will last for a maximum of two years or until a prisoner's sentence expiry date. Money will cease to be collected past these points.
There were 6,881 proven adjudication offences from January to December 2012. This includes 411 offences of setting fire to property and 6,470 of destroying or damaging property.
Published 30 September 2013