News story
Prison officer retires after 45 years of service
One of the longest tenured prison officers in England and Wales has retired after almost half a century of service.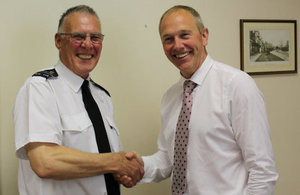 Owen Williams, will retire today (13 May) after 45 years in the prison service at the age of 65, making him one of the longest serving prison officer in England and Wales.
Owen, known to friends and colleagues as OC, joined the prison service in 1971 after training at Leyhill. He was first appointed to HMP Hindley until 1974 when he joined Swansea, where he has spent the majority of his service.
After 45 years OC has a number of highlights, including meeting Princess Anne when she first opened the Listeners Scheme and when HRH returned to mark its 25 years of success.
He was also selected to go to the Queen's garden party to celebrate his time and work for the service.
Multi-talented OC had a break from serving as an officer when in 1985 he became a caterer at HMP Everthorpe. He then gained a promotion to Senior Catering Officer at HMP Gartree before returning to work on the landings in 1995 back at Swansea.
He said: "We have superb staff at Swansea, the young men are energetic and enthusiastic. I can jump over the heads of the youngsters, I can keep up with them and am just as enthusiastic!
I will miss the comradeship in the prison. It was very special and I have made solid and good friends. I have had a lot of support, including from the junior officers.

For instance, I am a bit of a dinosaur on the computer and am always taking advice from them.
Following retirement Owen plans to go on holiday, and then continue to pursue his hobby of photography. He is in the process of moving house so will be decorating and gardening.
He added:
It is time for me to hang up the keys, as the cowboys say.
Prisons Minister Andrew Selous said:
It is this kind of enthusiasm for work that epitomises everything that you would look for in a Prison Officer.

Owen Williams is a valued member of our staff at HMP Swansea and we are grateful to his dedication to the service.
Published 13 May 2016