Prison officer named Guardian public servant of the year
A community liaison prison officer at HMP Norwich has been named Guardian public servant of the year 2011.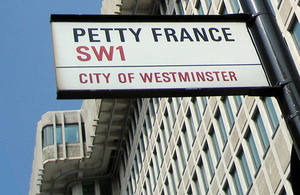 Dave Damerell's work helping offenders get jobs through work experience struck a chord with the British public who voted him the winner in the newspaper's national competition.
Speaking after winning, Dave said: 'I was very shocked to win, but also very honoured and humbled. I'm just one of many officers who do a terrific job and it highlights the great work we do here at Norwich Prison.'
Building partnerships
An officer for 20 years, Dave's latest project started two years ago when he began building a partnership with the Chapelfield Shopping Centre and 100 local employers.
Dave's determination to help offenders become active members of the community through work experience and employment has achieved remarkable results - 80 per cent of the 89 participating prisoners have secured jobs and of that group only one has reoffended since being released from prison.
Prisoners now provide Chapelfield's recycling manpower and have reduced its landfill from 37 tonnes per month to just three, winning a prestigious Green Apple Award for environmental best practice.
Dave's work experience programme has been so successful that he is recruiting more local employers to the scheme, while other prisons across the estate are hoping to copy the Norwich model.
A good year
This latest award marks the end of a great year for Dave, who also scooped a Prison Officer of the Year award for reducing reoffending in September.
Dave follows in the footsteps of John Biggin, Director of HMP Doncaster, who won the Guardian award in 2010, and Lee Peck, then of HMYOI Warren Hill, who won in 2008.
Jayne Frost, Deputy Governor at HMP Norwich, said: 'We are extremely proud that Dave's work has been recognised in this way. He has tirelessly worked within the prison and the wider community to promote resettlement opportunities for prisoners - working either as volunteers or in work placements. He has demonstrated energy, initiative and acted as a champion in developing these initiatives.'
Prisons minister Crispin Blunt also congratulated Dave Damerell on winning the award.
He said: 'I share his belief in the importance of employment as a key factor in reducing reoffending, and thank him for the excellent work he has done to help prisoners gain employment through work experience, delivering most impressive reoffending outcomes.
'His approach is reflected in much of the Government's priorities, including work in prisons, employer engagement and early prisoner access to the work programme. System wide imitation of Dave Damerell's good work is a pretty sincere piece of flattery.'
More on this story
Guardian public services awards website
Published 24 November 2011